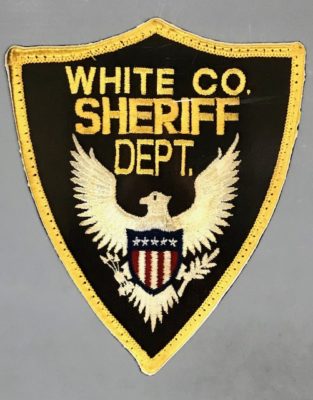 40 year old Amanda E. Rister, of Norris City turned herself in to the White County Sheriff's Department, just before noon on Friday, on an active White County Warrant for Petition to Revoke Probation – Violation of Probation. Bail amount on the warrant was $5,000 cash bond plus a $20 booking fee. Rister was taken into custody and remains held in the White County Jail.
The White County Sheriff's Department was dispatched to 307 First Street in Crossville, Friday night around 10:30, in relation to a fight in progress. Upon arrival, Deputy Weiss spoke with 22 year old Donovan Overturf, who said he was invited over to Joseph McCoy's house for drinks. Overturf said he consumed 6 Corona Lights while there. McCoy asked Overturf to step outside so he could apologize for things in past. After a little while, McCoy started mouthing Overturf and threw a can at him, hitting him on the right side of his neck. McCoy then threw a punch hitting Overturf's neck. Overturf then stepped away and called 911. McCoy told Officers he did invite Overturf over to apologize, but both of them were intoxicated and Overturf started mouthing him. McCoy said he then asked Overturf to leave. Overturf then said he was going to kick McCoy's behind. That is when McCoy threw the can. Witnesses to the incident said they did not see anything and were not getting involved. Overturf wrote a statement and signed a complaint that was filed with the White County Sheriff's Office.
Kelly Murphy of Grayville reported to the White County Sheriff's Department, Saturday evening, a burglary had taken place at her sister-in-law, Eileen Pollard's residence in Crossville. Murphy said she was watching the house, which is currently vacant, when she noticed someone had illegally entered the living room through a window and a small wooden table. Whoever entered the house left clothes, belonging to a male and a female, in the bedrooms. No other evidence was discovered.
The White County Sheriff's Department received a report Sunday morning, just after 8, of a vehicle that had driven into a creek where a bridge was being replaced. Officers arrived at County Road 1225 N, approximately 200 feet west of County Road 875 E, and observed a red 1999 Mitsubishi Eclipse in the space where the bridge had been removed. There were no registration plates on the vehicle. No one was inside the vehicle, as it was resting on the remaining concrete bridge structure and not in the creek itself. Don's Bumper to Bumper was contacted to remove the vehicle and Carmi Township Road Commissioner Christopher S. McEwing was contacted about the situation. McEwing reset the "Road Closed" sign that had been blown over by the wind.
Alan R. Saunders of Carmi reported to the White County Sheriff's Department Sunday morning someone had tampered with an oilfield tank battery located at the intersection of County Road 1600 E at County road 2000 N. Saunders told Officers someone had opened a valve on one of the holding tanks causing a large amount of oil to flow from the tank. The oil overcame the retaining walls that were built around the tank battery, and leaked into an adjacent field. Matthew L. Wolf, of Bridgeport, who services the tank battery for Saunders, said the tank had been full of 187 barrels of oil. A saltwater holding tank was also damaged, causing 100 barrels of saltwater to be released. An electrical switch was damaged causing a pump to cease functioning. Without the pump, the oil and saltwater were able to overcome the retaining wall and flow into the surrounding field, also flowing into a small ditch. The loss of oil was approximately $10,000. The Illinois Department of Natural Resources, Office of Mines and Minerals was made aware of the situation. An incident report was filed with the White County Sheriff's Department.