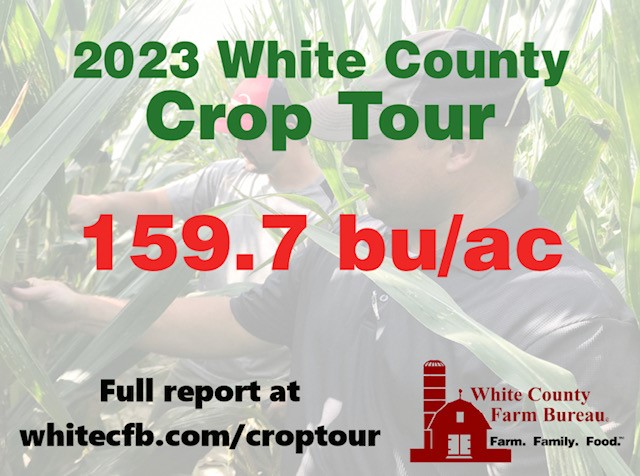 The below average rainfall during the critical months of June and July has had a significant impact on the yield potential of this year's corn crop, according to the results of the 2023 White County Crop Tour. The event was held on August 30. This year's White County Crop Tour was sponsored by the White County Farm Bureau, York Ridge Agency LLC, Fairfield National Bank, and Consolidated Grain & Barge.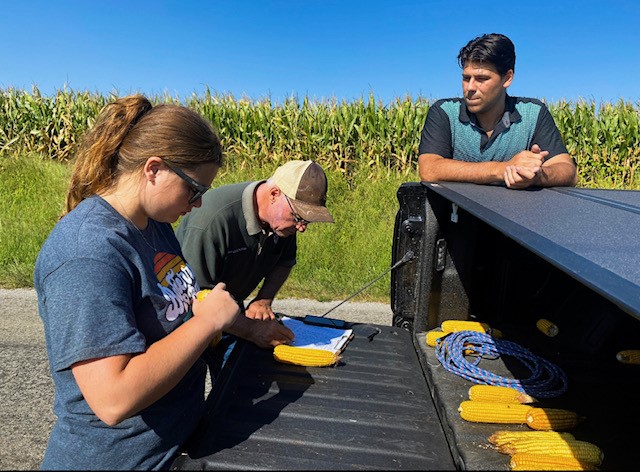 The average estimated 2023 corn yield for White County is 159.7 bushels per acre, compared to an actual USDA corn yield of 186.7 (planted acres) in 2022. The highest USDA corn yield during the last 10 years for White County was in 2014 when the yield hit 195.3 bushels per acre. The lowest USDA corn yield in the last 10 years occurred in 2016 with a yield of only 134.3 bushels.
Heavily irrigated Emma Township in the southeastern area of the county saw the highest yield estimate at 174.3 bushels per acre, which was down from the 2022 estimate of 190.9 for that township. The lowest yielding township in 2023 was Hawthorne Township which came in at 142.9 bushels per acre. The township is known for sandier soils and is typically one of the first townships to begin planting each year. The early pollination of these fields during the dry spell in June was a likely factor in its lower-than-average yield potential for this year.
2023 yield estimates for each township results were (bu/ac):
· Burnt Prairie Township 145.8
· Carmi Township 162.7
· Emma Township 174.3
· Enfield Township 151.3
· Gray Township 171.0
· Hawthorne Township 142.9
· Heralds Prairie Township 173.9
· Indian Creek Township 146.1
· Mill Shoals Township 162.8
· Phillips Township 165.9
38 individuals participated in the 2023 tour, spanning out in teams across the county to take yield measurements.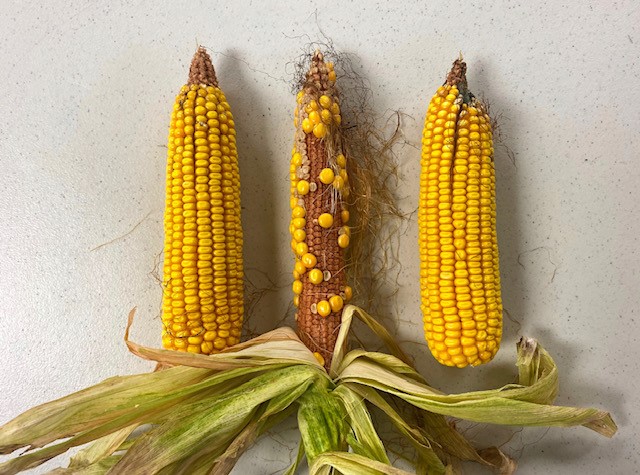 Teams measured the number of stalks in 60 feet, the number of ears in 60 feet, average length of an ear, and the average number of rows in an ear. Data was taken from 8-10 fields in each township, randomly chosen around 2-3 miles apart from one another. A yield estimate was taken from 100 fields in 10 townships.
The average ear length for 2023 was 6.8 inches, compared to 7.0 inches in 2022; average kernel rows were 16.0, down from 16.1 in 2023; average ear population was 28,519 plants per acre, compared to 29,428 plants per acre average in 2022; and the average ear-to-stalk ratio was 96%, down from 97% in 2022.
The White County Farm Bureau would like to extend a special thank you to FNB for sponsoring lunch, to Consolidated Grain & Barge in Enfield for sponsoring breakfast and for the use of their ropes and field forms, to York Ridge Agency for their assistance in compiling the data, and to the Carmi FFA Chapter for assisting with the tour.
For the complete report of the 2023 White County Crop Tour, go to the White County Farm Bureau website at www.whitecfb.com/croptour.