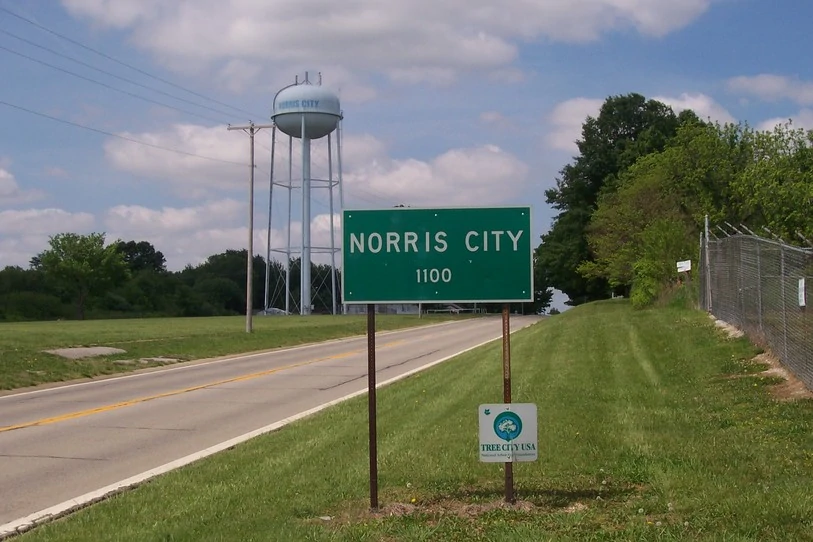 The Norris City Village Board met for its regular monthly session Monday night, a week later than usual due to last Monday being a holiday.  Scott Mareing was there and has this report.
In TIF business, the board approved the $18,800 requested by Maypop's Laundry for building repairs, with half of the money to be paid out now, and the other half the next time new TIF monies come in.  Also approved was Red's Recoil having to reapply for TIF money.
Phase IV of the Water Project is moving forward and the exposed 12 inch lines are holding.  There will be a public hearing held on Tuesday, January 17th at 10 AM at City Hall on applying for grant money for the water project.
Approved was the White County Sheriff's Dispatch Agreement for the same amount as last year, a one-time payment of $16,100, due on June 1st.
The board approved Mayor Skip Land's request to pursue working with CUSI, a company that handles billing for utilities in Norris City, and with NIXLE, which allows residents to receive text messages to notify them when things like boil orders, burn notices, ordinances, or other emergencies occur.  This would be of great use to the elderly, many of whom do not have ready access to computers.
It was agreed to purchase a 2017 Ford Explorer surplus vehicle from the White County Sheriff's Department for $10,400 plus $1,000 for all equipment except the radio.
The board also approved Mayor Land signing the Water Sales Agreement for Broughton.
There was a discussion concerning the village's Nepotism Policy.  It was decided to put together a committee with board members Joe Skaggs and Wayne McKenzie, to look into whether to amend the existing policy or do away with it altogether.
The board approved an ordinance to allow Mayor Skip Land and board member Larry Garland to be safety coordinators of a hazard communication program for HAZMAT training, as required by OSHA.
The two buildings on the city owned property on East Main Street will be declared as surplus property to be put up "for sale or rent by the owner".
The Mayor signed an agreement concerning unauthorized use of a village vehicle.
Dennis Boyd addressed the board about being unable to get access to his carport, which is behind Mimmo's, due to vehicles blocking him, saying efforts to get the situation resolved have been unsuccessful.  Mayor Land said he talked to the owner and the problem has been fixed.  The Mayor said he was concerned about the Fire Department being unable to get through in case of an emergency.
Chad Mittsdarffer of Country Companies wanted to thank the board members and the village for all they have done for him through the years, as his office has been closed and he is moving to work for the company in McLeansboro.
Board member Wayne McKenzie said some residents have asked him why there's no POW/MIA flag flying at the Legion.  Mayor Land said it's not a requirement, but will talk to the Commander about them possibly putting one up.
In the Police Report for December, there 13 reports written, two accident reports, zero arrests, 10 traffic stops and warnings, three citations issued, as well as nine 9-1-1 calls.  Officer Kody Jones started at the schools on January 3rd and has already handled several calls.  The board adjourned at 8:26 PM.  The next Norris City Village board meeting will be Monday, February 6th at 7 PM.