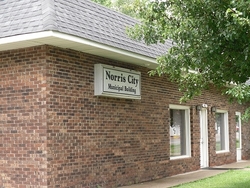 The Norris City Village Board met for its regular monthly meeting last night.
The board agreed to raise rates because of next year's water project for all water customers, to begin on January 1st.  In-town and rural residents will see a one dollar increase for the first 2,000 gallons and a 50 cent increase for each 1,000 additional gallons. Those customers in Dale, McLeansboro and Broughton will see a similar increase.  Mayor Roy Kissell again said there has not been an increase in water rates in 31 years.
Luke Marsh gave an update on the welcome signs.  The sign on the east side of town is now up.  The board approved the purchase of $159.95 on landscaping stones, mulch and other materials from Home Depot.  The sign on the north side of town will be put up once the money for it is allocated.
Marsh, as a member of the board of the Wakeford Museum, requested help from the village on fixing the water leaking from the roof of the building into the museum.  The village board will consider financial assistance after a cost-estimate on the repairs.
Jenny Smith with the Lions Club addressed the board about getting TIF money for the repair of the roof on their building.  They got an estimate from Tri-County Roofing of $25,000 for the repair and are asking for $28,000 in TIF money for the roof and some kitchen repairs.  The board will take the matter under consideration and make a decision at next month's village board meeting.
The computer control panel at the water wells needs to be replaced with a system using a cell phone modem, with a receiver that costs $1,500.  And they want to purchase 40 new water meters at $159 each.  The board agreed to spend $8,000 total on the equipment.
Work has been done to establish a base for the concrete at the 400 block of North Conger and the board will consider reducing the width of the street there from 80 to 60 feet.
Road repairs on Cherry Street are finished along with the summer MFT program.
In the police report for July, there were four reports written with no citations or arrests, as well as five 9-1-1 calls.  The department thanked those who assisted in the investigation of a recent suicide, saying it was a difficult time for all involved including officer Dale and deputy Jordan Weiss who responded to the scene within moments of the 9-1-1 call.  Also, new officer Ethan Jones is doing well in his fifth week at the Police Academy.
The board's next meeting will be Tuesday, September 8th at 7 PM due to Monday being Labor Day.