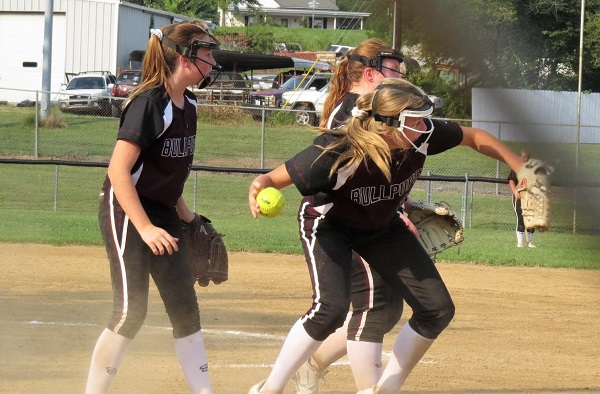 The Lady Bullpups set a season high in runs scored while pitcher Lindsay Simmons was brilliant from the pitcher's circle yesterday afternoon.  Simmons threw a no-hitter to lead CWC past Eldorado 26-0.  Aly Albright drove in 6 runs going 3 for 3 from the dish with 2 singles and adding a homer in the 4th inning.  Simmons was a walk away from a perfect game giving up no runs on no hits.  The Lady Bullpups scattered 20 hits over the game with Malyiah Mayo, Albright, Simmons, Mia Evans, Caroline Simmons, and Addi Elliott all racking up multiple hits.  Mayo went 4-4 from the plate and the Lady Bullpups played a clean defensive game with no errors.  Now 8-1 on the year, Coach Cindy Colman's team will face Marion Saturday morning at 10:30am.
Coach Will Knight's Bullpups topped Eldorado by a 12-1 score in 5 innings Thursday afternoon.  Maxon O'Daniel went 4 for 4 from the plate with 3 doubles and crossing home 3 times himself.  Hayden Sauls went 2 for 3 with a walk and a double.  He collected an RBI and scored 3 times himself.  Preston Shelton was 1 for 2 with 2 walks, an RBI, a run scored, and 2 stolen bases.  Merick Millhorn singled, walked and scored 2 runs.  Colton Marvin added a single, walk, run and stole 3 bags.  Abe Girten added a single, walk, drove 2 in, and scored once.  Travis Nausley contributed a single, walk and an RBI.  Banks Moore and Isaac Karnes each added a single.
Hayden Sauls got the win on the mound throwing 4 innings of 4 hit ball, allowing just 1 run and walking 3 while fanning 7.  Abe Girten mopped up with a perfect 5th allowing no runs and no hits while striking out 2.  The Bullpups are 5-0 and play Edwards County on Tuesday.