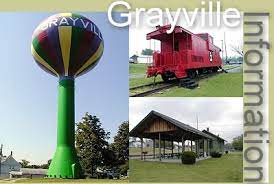 There will be a fairly light agenda for the city of Grayville at the next meeting of the City Council, which will be held on Wednesday, December 14h at 5 PM at City Hall.
In old business is the Water Filtration Plant, ISP Health and Welfare Fund DC 58 demand for payment from the 2016 to 2022 audit, security camera system quotes, a request to vacate the alley in Martin's Addition, abandoned properties for demolition and clean-up, and a TIF Agreement with First Christian Church.
In new business is a TIF #2 Request from Janet Giese for 618 North Court Street, Penny Pritchett on highway safety issues at the 4-way intersection, and school zone radar feedback signs and other signs and locations.
Also on tap is approval of the Consent Agenda, the Treasurer's report, Purchase Order Approvals, and recognition of visitors, plus reports from the Engineer, Police Chief/Utility Manager, City Attorney, Commissioners, and the Mayor.
There are no Executive Session items listed on the agenda.