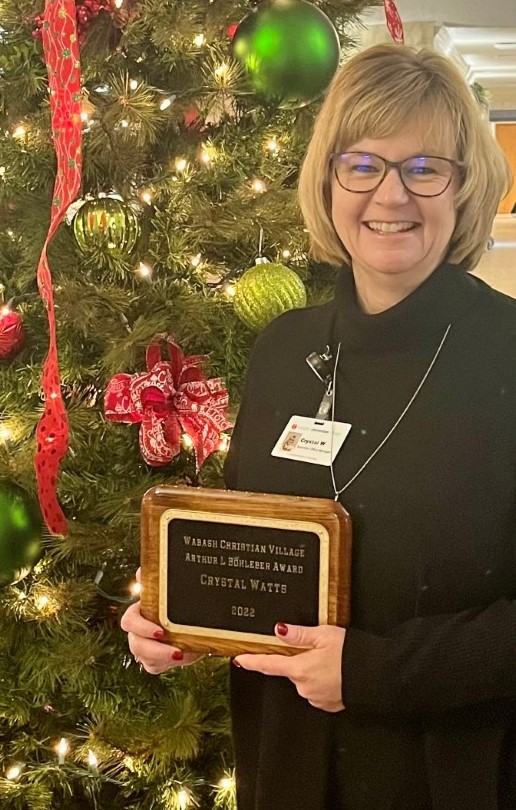 Wabash Christian Village presented the annual Arthur L. Bohleber award on Friday, December 16, 2022. As most of you know, this award was established in memory of Arthur L. Bohleber. Mr. Bohleber was one of Carmi's local businessmen who first opened and owned Wilmer Restorium before it was sold in 1974 and became Wabash Christian Village. This award is designed to recognize an employee who demonstrates consistent commitment to our guests, customers, and fellow employees.
Crystal Watts, business office manager, is this year's recipient of the Arthur Bohleber Award. Crystal joined Wabash in 2012, and from the start, she took extra time with guests and made them feel seen and heard—from purchasing snacks, drinks, etc. for staff or just giving someone a "pick-me-up" that needed it that day.
Crystal has always made time for the guests of Wabash as well as routinely looking out for her co-workers. Crystal is confident, selfless, and willing to listen regardless of whether the problem is related to work or not. She has been a shoulder to lean on for the families of our guests. In fact, some families ask for her specifically and will not speak to anyone else. She has walked beside guests and/or families as they have faced hard decisions and even the deaths of their loved ones. In the face of adversity or problems, you will often hear Crystal say, "It's fine; I'm fine; everything's fine." T-shirts were even created in her honor, stating this exact phrase.
Please join us in congratulating Crystal on this high honor.