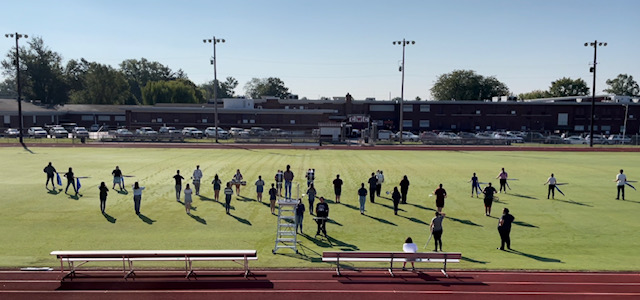 Specific things come to mind when your mind drifts to Friday night football.  The teams on the field certainly, maybe your favorite aromata wafting from the concession stand, cheering of course, but also with a part to play in setting the mood for the night is the band and the color guard.  And while the football teams compile stats kept in history books and enjoy the focus of the evening, the students who entertain crowds are every bit as into their role as those who put on the pads and helmets.
This year's Carmi White County band continues to work in preparation for what Director Storm Santos says should be a challenging but enjoyable halftime show coming up on October 15th at the Bulldogs final regular season game.  The show will be Fantasia featuring music from the 2000 update including Symphony No. 5 and also The Sorcerer's Apprentice.  Junior Victoria Duckworth has the distinction of leading the 30 some band members through their songs and movements.
Benjamin Foote, a senior who just joined band his freshman year may have a future as a lawyer.  The baritone sax player says he arrived at band through negotiation with his mother.
Foote says he's heading to college for Actuary Science after graduating this spring.  Senior Samaira Snow is the color guard captain.  She describes her and the guard's role in the upcoming Fantasia show.
Landon Driscoll, a sophomore trumpet player, is one of the few that actively takes part in both sports and also band.  He says it's a lot to try to keep up with, but he loves both.
Santos is now in his second year teaching band to 5th through 12th graders and choir to the junior and senior high after working 2 years at Eldorado.  He says he wants to honor the traditions that Carmi is so rich with while also keeping kids engaged with fun and new experiences to instill a love of music in them.
Fantasia will be featured during halftime of the Carmi White County home football game on October 15th.