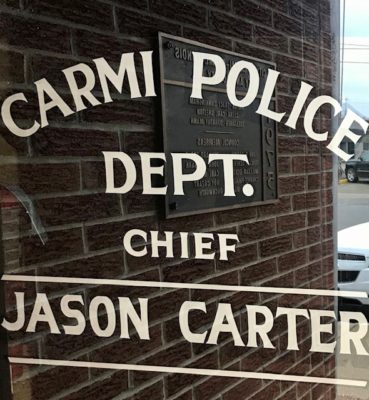 35 year old Floyd Dale Hargrave of McLeansboro was arrested by Carmi Police at the Carmi Motel Monday afternoon, after he was found hiding in a room. Hargrave was wanted on Failure to Appear Warrants out of Saline County and Wayne County for Possession of Meth. He was wanted out of Hamilton County on a Failure to Appear Warrant for Burglary. He was also charged with Possession of Hypodermic Syringes and Possession of Meth after one was located in his pocket and one on the floor loaded with meth near a baggy which also had meth in it. 35 year old Amanda A. Carney was also arrested after two meth pipes and 44 Alprazolam pills, not prescribed to her, were found in her purse. The two are being held in the White County Jail. Hargrave on $2,550 bond.
19 year old Dezra L. Oguinn of Carmi was arrested Monday afternoon by Carmi Police on a White County Warrant for Disorderly Conduct. She bonded out on $150 cash plus a $20 booking fee.
27 year old Travis C. K. Gill was arrested Monday on a White County Warrant for Violating an active Order of Protection. He bonded out on $500 cash plus a $20 booking fee.
56 year old William L. Holloman was arrested for Burglary and Criminal Trespass to a Residence following a 911 call to the area of 300 block of 5th Street. Holloman was also arrested on a White County Warrant for Failure to Appear on a theft charge in addition to the burglary and criminal trespass charges.