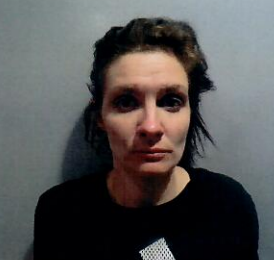 The White County Sheriff's Department reported the arrest of a Carmi woman at around 1:30 Wednesday morning.
32 year old Ashley Bebout, operating an ATV on a public roadway, was arrested by Officer Mitchell Malone of the Crossville Police Department, following a traffic stop at Main and Ingram Streets in Crossville.  White County Sheriff's Deputy Trey Simmons then arrived to assist.  Officer Malone discovered that Bebout had a revoked driver's license.  Following her arrest on the revoked license, a firearm was discovered, which was determined to have been stolen in Gallatin County.  Some pills were found as well.  Deputy Simmons transported Bebout to the White County Jail, where she was booked for Driving While License Revoked, Possession of a Stolen Firearm, Unlawful Use of a Weapon by a Felon, and given citations for Operating an ATV on a Roadway and No Tail Lights.  The ATV was towed from the scene by Don's Bumper to Bumper.
Bebout is scheduled to appear for a Preliminary Hearing on July 5th at 10 a.m.