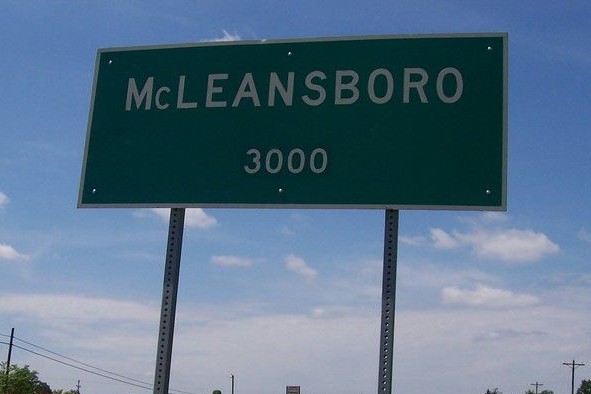 The McLeansboro City Council met Tuesday night for its regular monthly meeting for about an hour and a quarter. 
 Scott Mareing was there and has this report…
 For about the first half hour of the meeting, the board members were shown the new method the city is using to list the bills and transfers, using charts and graphs, which also shows year-to-year comparisons. 
 The board accepted the resignation of Brad Cross from the Zoning Board of Appeals, who had served for eight years.  Becky Cross was appointed as his replacement.  Cross and Cody Vanover were both sworn in as new members of the Zoning Board.
 The Contract C Change order, changing the completion date of the Water Tower Project from December 1st 2020 to August 20th 2021, was approved, as was final payment request for the Water Tower in the amount of $20,500.  It will be submitted to the USDA for their approval.  Still to be accomplished is demolition of the old water tank in November, which will take about a week.
 A Hedging Agreement by and between the City and United Gas was approved, giving United Gas the authority to purchase natural gas on the city's behalf pending a connectivity date, and giving Mayor Chad May permission to sign an agreement.
 Pay Estimate #2 from ET Simonds Construction for the Market Street culvert replacement project, totaling $31,104.61 was approved.
 A resolution closing and/or rerouting certain city streets for the December 4th
Christmas Parade was approved.
 Several TIF requests were also approved.  Three from Don and Ann Burk – $1,703.60 for the property at 402 South Marshall Street, $3,909.29 for the property at South Marshall and $600.56 for the property at 600 West Market; Jarrod and Lois Vaupel for $1,203.74 for the property at 105 East Main Street; and  William and Beth Sandusky for $233.29 for the property at 121 South Jackson Street.
 A Hamilton County Economic Development Commission and City of McLeansboro Façade Improvement Grant Agreement for Will and Beth Sandusky for $1,488.32 for the property at 121 South Jackson was approved.
 The board donated $500 to the Hamilton County Sheriff's Department K9 Fund, as they are looking to get a dog to fight drug crimes in the county.
 The recent cleanup day was a big success.
 And the utilities department is looking to replace old gas meters, as some have been in use since the late 1950's.
 The board adjourned at 7:19 PM.