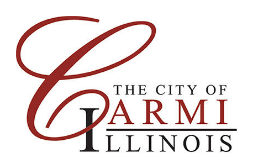 The Carmi City Council met for their final session of 2022 on Tuesday evening.
Preceding the meeting, a public hearing was held for consideration of altering Residential Zone IV to Business Zone II, specifically for a property at 603 West Main Street.  The property is set to become the new home office for Country Financial agent Kyle Hosick.  Following the approval of the consent agenda, the board approved a bid of $84,470.75 for a VAC trailer for the Sewer Department and will discuss moving forward with the purchase at January's council meeting. A pay request for Keifer Brothers Construction for the Seventh Street Sewer Project in the amount of $16, 588 as well as a resolution to execute an amendment to an agreement with Brown and Roberts engineering dated September 20, 2022.  Next on the agenda the board approved to alter 603 West Main Street from a residential to business property and lastly the board approved an ordinance stating that within 90 days of the death of an account holder with the Carmi Light and Water, the account must be put in the name of the living person.
Chief Jason Carter introduced the newest city Police Officer Jason Quillen to the council. Quillen grew up in West Salem. He graduated Edwards County High School in 2018 and when on to graduate from Wabash Valley College in 2020. Quillen worked as  a Full Time dispatcher for Eldorado PD before being hired as a full time patrolman. He then graduated South Western Illinois Police Academy in 2022. Quillen is  married to Kaelynn Quillen who is the Grayville HS Ag teacher. His first day for Carmi Police Department was December 5th.
There were no reports from the mayor or standing committees and no comments from visitors. No executive session was held.