In 2018, a Public Safety Tax Referendum failed to pass.  It would've added a half percent sales tax.  At the August 11th White County Board meeting, members voted unanimously to allow voters a chance to reconsider, this time with a full one percent added to sales tax if it passes.  Though the decision to place the question on the November ballot was passed with yes votes from all board members, it wasn't without discussion and discord.  The opportunity to keep kicking a decision on placing the question on this November's ballot had reached it's expiration.  Board member Jake Carter commented,
"If we put it on hold, it won't be on the ballot.  It's gotta go now.  It's something we definitely are going to need.  I'll agree the timing is wrong.  I'm not for raising taxes whatsoever, but we're gonna have to do something at some point or we're gonna lose our ambulance service."
The current maximum sales tax rate in White County is 8%.  According to SalesTaxHandbook.com, that rate is already higher than 52% of Illinois counties and 69% of counties nationwide.
Ambulance Director Adam Allen said he learned a lot about the approach from 2018 and reiterated that this request is just for sales tax, not property taxes.
"That way, anyone passing through the community, anywhere in the county, this way it's not just the property owners and things like that.  It's anyone that comes throughout the county and purchases.  There are several items that are exempt…farm machinery and equipment, auto sales…those are some of the exemptions that come along with this and I want to reiterate it's just a sales tax.  I would ask for the 1% to mimic kinda what the school has done.  Ya know, hopefully being able to mirror and see the same kinda result."
Concerns in 2018 also were than the monies brought in wouldn't just go to the ambulance service and might actually be poached by other agencies.  Rather than asking for the referendum to provide money only to the ambulance service, Allen provided a breakdown of what each agency would likely get based on three options of referendum question…at a quarter of a percent, a half of a percent, and the full percent.  You can see the breakdown below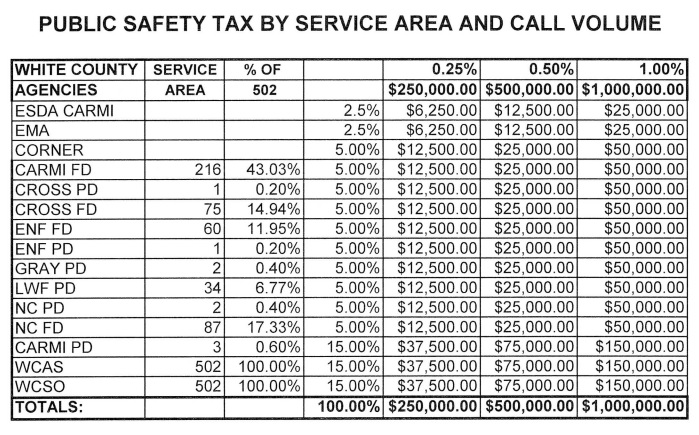 In other news from the meeting, it was mentioned we should know by the first week of September whether a federal grant will be provided to assist in the re-opening of the New Harmony Bridge.  Clint Spencer sits on the White County Bridge Commission as a representative of the County Board.
Nancy Buttry was reappointed to the Egyptian Health Department Board of Directors for a 3 year term.
Ed Heller of Ranger Power reached out to Board Chair Donnie Puckett the day prior to the meeting asking for the consideration of an amendment to his solar permit be tabled.  Heller's solar farm is being proposed for the Sacramento Road area…a Rebuild Illinois grant has been applied for by the White County Board to help improve the road that will serve as access to that area in anticipation of the development.
The board entered into an Engineering Services agreement for a project over Crooked Creek.  Lamac Engineering out of Mt. Carmel will oversee that project in Highway Engineer Brian Ray's absence as he deals with health issues.
The board accepted the resignation of Diana Campbell as Commissioner of the White County Housing Authority and appointed Andi Ford of Grayville to fill that vacancy.
There was no executive session and the meeting adjourned just under 30 minutes after it's initiation.  The next White County Board meeting will be a day meeting on Tuesday, September 8th at 9am.