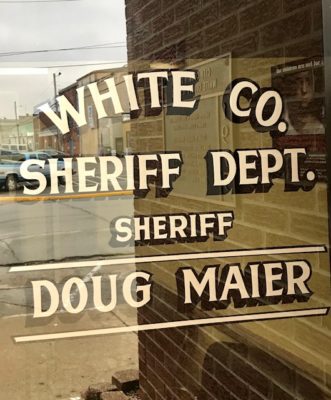 Ronald E. Guthrie reported to the White County Sheriff's Department early Saturday morning that two unknown subject had entered a building on his property. Guthrie told Officers when he entered his building at 704 County Road 1100 N. in Carmi, around 2:00 AM, he observed an unknown male and female subject inside. Both subjects were wearing masks and appeared to be of younger ages. The female subject ran from the building as Guthrie attempted to speak with the male subject who refused to remove his mask or speak with Guthrie before he exited the building.  A champagne colored SUV pulled into the driveway and honked. The male and female climbed inside and left the area.
Guthrie stated he does not know who the subjects were. An electric impact wrench was reported as missing, but Guthrie was unsure if it was stolen or if he had lost the tool at a different time. The driver's side window on his maroon 1989 Ford F150 pickup was broken out with a large rock that was discovered on the driver's side floorboard.
An incident report was filed with the White County Sheriff's Department.