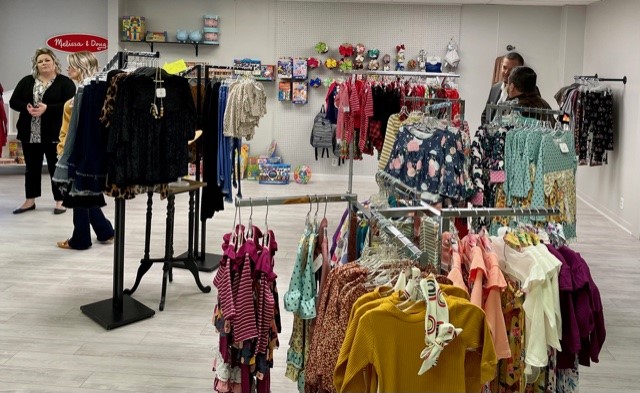 Carmi's newest children's and women's wear boutique is now open for business.  The owners are anything but inexperienced when it comes to operating a successful business however.  It was March of 2017 when Danielle and Heath Short launched La-D-Da Boutique in Norris City, a small 500 square foot store specializing in children's clothing. Just over a year later, in July of 2018, the Shorts got into the restaurant business with Shorty's Barbecue in Norris City.  Both businesses are still going strong and that's led to the birth of the couple's newest venture, a second location for La-D-Da, in the former Southern Illinois Lumber building on Oak in Carmi.
The new La-D-Da in Carmi is a skosh bigger with 3,000 square feet of space and ample additional room for expansion.
Danielle and Heath say their goal with La-D-Da is to offer excellent products in price points that fit anyone who decides to shop.  The Norris City boutique is open on Fridays and Saturdays.  The new Carmi boutique, which officially opened November 13th, has more expanded hours.
The store looks anything like it's previous occupant.  The Short's put a lot of money and elbow grease into lighting up the location and making it feel open and inviting, a stark difference from the blue collar hardware store that the building use to house.  They say they're thrilled to be part of the community and are hopeful the wonderful support they've received so far will continue.