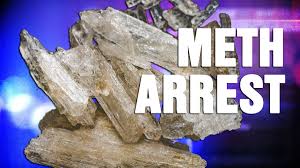 According to Hamilton County State's Attorney Justin Hood, two people were arrested in Hamilton County on felony charges within the last week.
44 year old Harland Hammond was arrested on June 27th by the Hamilton County Sheriff's Office after being involved in a vehicle accident.  He was found to be in possession of more than 100 grams of a substance containing methamphetamine.  Hammond was taken to the White County Jail charged with Unlawful Possession of Meth, which is a Class X felony, and Unlawful Use of Property, a Class 2 felony.  His bail was set at $50,000, with a court date of July 5th.
Megan MacMahon, 53, of McLeansboro, was arrested on July 2nd after a search warrant was executed at her residence by the McLeansboro Police Department and Hamilton County Sheriff's Department.  She was charged with two counts of Unlawful Delivery of Methamphetamine, Class 1 felonies, from June 28th and July 2nd.  She was arrested and taken to the White County Jail, with a court date of July 5th.