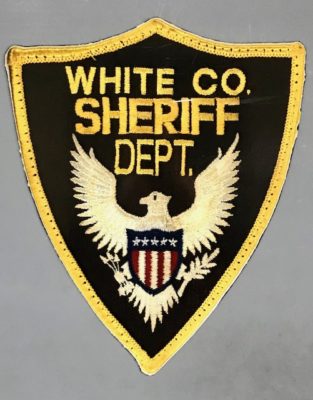 On Monday afternoon White County Sheriff Jordan Weiss was notified by White County Probation that an individual that was known to be wanted on a warrant was in their office. Weiss met with 29 year old William Flowers of Church Street in Carmi and advised him of the warrant for Failure to Appear.
Flowers was taken into custody and booked in the White County Jail. He appeared in court this morning (Wednesday) for a first appearance. He is scheduled to appear for a status hearing on July 13th 9:30 a.m.
At around 10 p.m. Monday evening Deputy Micheal Brown was dispatched to Liberty Street in Mill Shoals in regards to an individual refusing to leave a residence. Brown with the assistance of Officer Nathan Poore arrived on scene and heard a verbal argument between the two parties. Brown spoke with the caller, 30 year old David Deaton who stated that his ex-girlfriend 26 year old Alexis Shock of Clay City had walked into his house and would not leave after being asked multiple times.  Deaton alleged that Shock had assaulted him by hitting him in the forehead.
Deaton explained to Brown that he had ended the relationship a few months prior and that Shock continued to try and contact him through social media apps. He then told the deputy that he wanted to file a complaint and also requested information on getting an order of protection/no contact order.
Brown then spoke with Shock who was unable to give a full statement after being asked several times. The officers noticed a strong odor of alcohol on Shock but when asked if she had been drinking she did not answer.
After the complaint was signed by Deaton, Shock was taken into custody and is being charged with one felony count of Criminal Trespass to Residence (with people present) and Domestic Battery.
She made her First Appearance in court Tuesday morning where bond was set at $7500. She is scheduled to appear for a Preliminary Hearing on August 7th at 10:00 AM
A Norris City has bonded out of the White County Jail after being arrested on a White County Warrant Tuesday evening. Deputy Simmons and Deputy Brown were dispatched to a residence in Norris City in reference to a male subject who had an active Body Attachment Warrant. The deputies arrived on scene and spoke with 52 year old Rodney Dillinger and advised him of the warrant. Dillinger was taken into custody where he paid $1,000 bond plus a $20 booking fee and was released about an hour later.
Also on Tuesday evening Deputy Michael Brown went to County Road 400 E in Norris City in reference to a warrant check on 40 year old Melisa Jack. Brown spoke with Jack and advised her of the warrant for Failure to Appear for Deceptive Practice. Brown explained that bond on the warrant was set at a $5,000. Brown then learned from dispatch the Jack was wanted on a Jefferson County Warrant as well with an additional bond of $25,000.
Jack was transported to the White County Jail. She is scheduled to appear in White County Court on November 13th at 8:30 a.m.