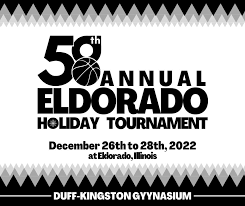 The 58th Annual Eldorado Holiday Tournament will take place December 26th through December 28th at the historic Duff-Kingston Gymnasium.
The Herrin Tigers were unsurprisingly given the #1 seed for the 2nd year in a row. Herrin is a perfcet 7-0 on the year, which features impressive wins over Carmi, Benton and Carbondale. Sayler Shurtz's crew won the EHT for the first time last season. They will face Carrier-Mills at 10 AM in Round 1.
Joe Hosman's Massac County Patriots are the #2 seed, as they were in 2021. The only blemish on Massac's resume so far this season was a 47-43 loss against Murphysboro last week. The Patriots have dominated nearly everyone they've played – defeating Eldorado by 28, Meridian by 21, Carrier Mills by 74, Cobden by 61 and Marion by 19. Massac lost to Herrin in the EHT title game last season. They will take on Gallatin County at 4:45 PM in Round 1.
Kevin Wolff's Carmi-White County Bulldogs were given the #3 seed, their highest seeding under Wolff's tenure. The Bulldogs jumped out to a 6-1 start on the season, before falling on the road against Benton by a final score of 64-31 on Wednesday. Despite the loss, it has been an exciting first few weeks for the Bulldogs, being led by senior Bryce Conner and sophomore Mitchel Edwards. The Bulldogs are still looking for that signature win, but their talent and explosiveness plays a vital part in them being named a top 3 team in the tournament. They will play Hardin County in the 1st Round finale at 8:30 PM.
The Carterville Lions are the #4 seed in this year's tournament. Outside of their 2 losses (5-2 record), the Lions have not played in a close contest. The Lions have defeated DuQuoin by 23, Red Bud by 18 and AJ by 20. Carterville will face the defending state champions, the Nashville Hornets on Friday night. The Lions will face NCOE at 11:30 AM in Round 1.
The Vienna Eagles were a last second shot away from defeating top seeded Herrin last year in the quarterfinals, and they will be the #5 seed in this year's tourney. The Eagles are off to a hot 7-1 start, but they are also looking for that signature win. Their only loss came to Massac County, losing 85-64 in the Vienna Classic championship game. They will battle Edwards County at 1:45 PM in Round 1.
The host Eldorado Eagles (3-3) were given the #6 seed. It has been an up and down season early on for Josh Bradley's squad. They have yet to play a game with a fully healthy roster, and they finished just 1-4 in this year's Vienna Classic while missing two starters. But since then, a different Eagles team has been on the floor. Eldorado pulled off two big wins at home, defeating Gallatin County 53-27 and Fairfield 63-27. They will have one more contest before Christmas when they host Hamilton County this Saturday. The Eagles will play West Frankfort in the 1st Round at 7 PM.
The Anna-Jonesboro Wildcats are the #7 seed. AJ is the only seeded team with an under .500 record at 4-5. AJ began their season at the Goreville Invitational where they finished 3-2, defeating Johnston City, Hamilton County and Hardin County. Four of their five losses have come to fellow River-to-River schools, losing to Benton by 7, Nashville by 14 and Carterville by 20. They also lost to Goreville by just 8. The Wildcats will face Fairfield at 3:15 PM in Round 1.
The final seeded team in this year's EHT is the Hamilton County Foxes, who are the #8 seed. Doug Miller graduated seven seniors from the outstanding 2021-2022 squad that nearly won a regional. Despite the large loss, they still have a large presence inside, and that is 6'8″ senior Wyatt Hamson. Some may say the Foxes have been a surprise team this season given the circumstance, but they stand with a 5-3 record at the time of the seeding. The Foxes will have two tough matches coming up this weekend when they host Carmi-White County on Friday, and then travel to Eldorado on Saturday. They will face Harrisburg in the first game of the tournament at 8:30 AM on Monday, December 26th.
Fans can watch and listen to all 26 games of the EHT on 97.3 FM WRUL and the WRUL Sports YouTube Channel.
Catch the WRUL/WROY EHT Preview Show on Thursday, December 22nd at 7 PM. The show will also replay on Saturday, December 24th at 9 AM on 97.3 FM WRUL and 93.3 WROY/AM 1460.
Round 1 Schedule:
(8) Hamilton County vs (9) Harrisburg – 8:30 AM
(1) Herrin vs (16) Carrier-Mills – 10:00 AM
(4) Carterville vs (13) NCOE – 11:30 AM
(5) Vienna vs (12) Edwards County – 1:45 PM
(7) Anna-Jonesboro vs (10) Fairfield – 3:15 PM
(2) Massac County vs (15) Gallatin County – 4:45 PM
(6) Eldorado vs (11) West Frankfort – 7:00 PM
(3) Carmi-White Co. vs (14) Hardin County – 8:30 PM