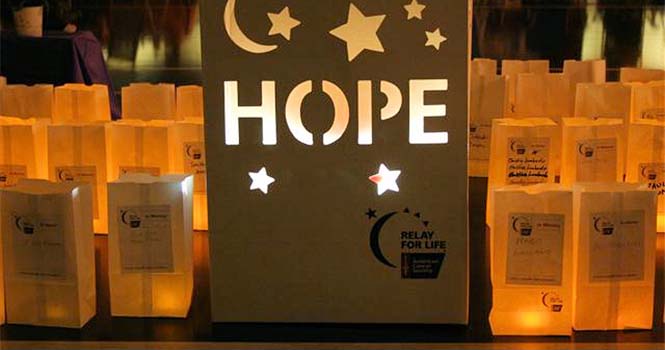 Marion, IL – June 25th, 2020 – Due to the COVID-19 outbreak, the previously scheduled Relay For Life Festival of Hope (Williamson, Franklin, Saline and Gallatin) event will now hold a Luminaria Display and Ceremony at Tower Square Plaza on the evening of July 18th in place of their traditional event. Community members are invited to walk through the display from 7 pm – 10 pm with a Luminaria Ceremony and breaking of the glow sticks set for 8:30 pm.
"During this difficult time, cancer won't stop, and neither will we," said Martha Clendenin, Event Co-Chair "Even though we cannot currently be face-to-face in a traditional Relay For Life event, we're committed to continuing to fight cancer head-on and hope that you will stand together with us, even when we're apart."
The Luminaria Ceremony is just a small part of the traditional Relay For Life event. We light Luminaria to remember those we've lost to cancer, celebrate cancer survivors, and show everyone affected by cancer that we are the light in the darkness. To dedicate a Luminaria to be lit on July 18th please go to: www.relayforlife.org/williamsonIL to purchase or email stephanie.smith@cancer.org.
The American Cancer Society's mission matters more than ever. The needs of people facing cancer continue and so does our work. Cancer patients still need support during this crisis. Funds raised help the American Cancer Society to continue with cancer research, the 24/7 helpline, and for continuing services to get patients the care and support they need where we can.
Help continue to bring hope to those that need it most. Join your local Relay For Life virtually to help those facing cancer. Visit www.relayforlife.org/williamsonIL or contact ACS Staff Partner, Stephanie Smith at stephanie.smith@cancer.org to purchase a Luminaria, become a sponsor, create a Relay For Life team or for more information about the changes this year.