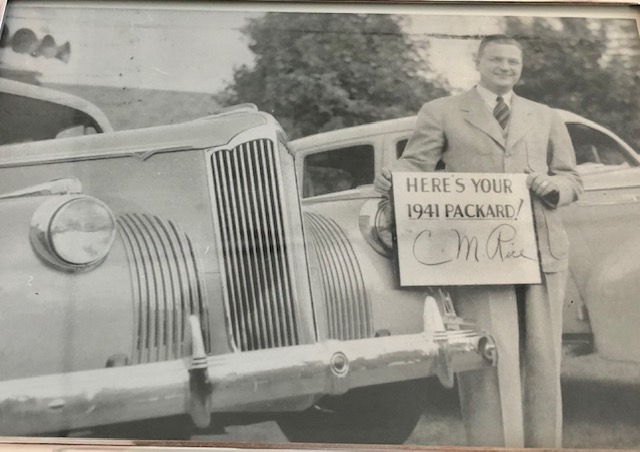 47,332,800 minutes.  That's 90 years Rice Motors has been serving the Tri-State.  It all began a few years prior to March 26, 1931 however when Scott and Todd Rice's grandfather, Clarence dipped his toe in the car sales water.
The eldest Rice found himself quite successful; so much so that Mr. Lee ended up jealous as the story goes and attempted to put Rice on salary.  Already a shrewd businessman, Clarence opted to not go that route and left to work at Ball Matsel Drugs in downtown Carmi for a few years.  The fire that had been lit in his belly however remained.
That first building was located between the White County Courthouse and the Carmi Times building where the parking lot is now.  Over the next 40 years, the dealership expanded and Clarence added on.  A fire in March of 1971 claimed that first dealership prompting the move to where we find Rice Motors today at 1306 West Main in Carmi.  There was a house where Banterra Bank is located now and the area where the dealership stands now was prior to that used by an oil service company.  Scott Rice was just a youngster then.
In the late 50's more change and progression came to the business.
You might expect by this time for the car business to be in Scott and Todd's blood, but both had other ideas for some time.  Scott went to law school after high school attending the Cumberland School of Law, a division of Samford University in Birmingham, Alabama.  It took about a semester before Scott decided it wasn't for him and he came back to the dealership full time in 1983 and has been there ever since.  Scott's younger brother, Todd had a stint coaching and teaching.  When their father, John bought the Ford dealership, Todd joined Rice Motors full time.  John himself didn't always know he was going into the car business.  As Scott says, his grandparents had ideas of their son being an optometrist.  Like Clarence though, John was infatuated with vehicles.
There's been a sea change in the automotive industry over 90 years from how vehicles are made to what models are most popular.  Scott remembers the vehicles everybody wanted when he was a kid.
It was around 1988 that Scott noticed folks who weren't necessarily in the ag or oil business were showing an interest in purchasing trucks as passenger vehicles.  And there was a very specific reason for that.
While there have been massive changes over 9 decades, if there's one secret to success, it's a simple notion that won't surprise you and if you've ever shopped at Rice Motors, you've probably experienced it.
Scott is hoping that the dealership will be able to host a large event this fall, potentially coinciding with Corn Days to officially celebrate Rice Motors' 90 years in business.  In the meantime, you're welcome to visit their website at http://www.ricemotors.com, call 618-382-4126, or drop by whether you're looking to buy, need service, or just want to say congratulations.