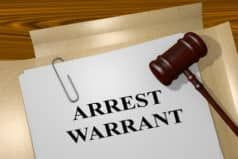 A Carmi man was located and arrested without incident Tuesday morning. On October 19th, at approximately 10:46 AM, the Carmi Police Department went to 904 W Sycamore Street in Carmi and executed three search warrants on 33 year old David J Oshea.
Two of the warrants served on Oshea were for Failure to Appear on Unlawful Possession of a Controlled Substance and were set with no bond. The third warrant was for Retail Theft and bond was set at $250 cash.
Oshea was taken into custody and remains in the White County Jail at this time.