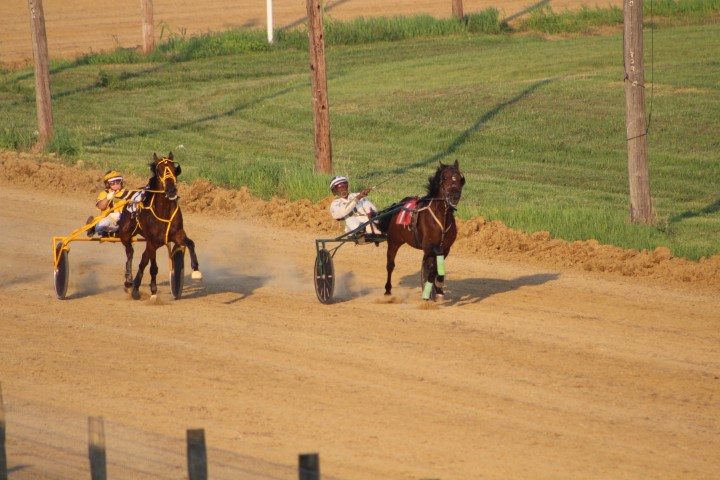 With 11 races on the race card, crowds got to enjoy some impressive performances by many of the states best performing horses, trainers, and drivers. Bell Boots took the opener, a mile trot with a purse worth more than $4,500. Matthew Avenatti guided the states top ranked 3-year-old filly to a 5 length victory over Shady Maple Isaac, the states top ranked 3-year-old colt/gelding and 4 other challengers. 
Denarius Dortch drove Major Rosita to a win in 2:04 flat in race 2. It would be the first of 3 wins in the bike cart for Dortch on the night. He'd take Rocket Party on to win by 20 lengths in Race 3 and Carli Bay to a win in Race 6. 
Lou Esmeralda took the top spot in the 2-year-old filly trot beating out 4 challengers in a time of just over 2:11. 
Darla Lohman guided Lota Grit to a win featuring 3 inexperienced 2 year olds to win. GVH Moneymaker crossed the line just ahead of Lota Grit but was placed second after breaking stride in the final yards. 
Races 7, 8, and 9 were still yet arguably more exciting.  Jodie's Big Boy won by 3 lengths in 2:07 and featured a blistering 31 second first quarter mile. Anthony Simpson drove Electric Mist to a 25 length win in Race 8. The third generation horseman (grandson of Hall of Famer Buddy Simpson and son of trainer Clay) won his first race in 14 years (he took off from 2010-2021).  Race 9 featured Gotta Go Gram with a rousing final 3/4 of a mile in just over 28 seconds. Thomas Graham Jr guided the horse from worst to first coming back from 12 1/2 lengths back and eventually winning by 7 lengths for a truly crowd pleasing performance. 
Chris Brown and Canadian born Tricks After Dark won the 3 & 4 year old pace in 2:07:60 and just before the sun sank, Freddie Payton Jr pushed Sudden Approach to a win in Race 11. 
The grandstand will be quiet Wednesday evening with the cancellation of the talent show due to lack of entries. There will still be Bingo in the floral hall starting at 6. Carnival rides will be in operation and food vendors will be serving up favorites. 
Thursday, motocross gets underway at 7pm. Friday, Rally Point Events will host a monster truck show, and Saturday, drivers will compete for top honors and cash prizes at the demolition Derby. 
Photos from Harness racing (courtesy of Asher Penrod for WROY/WRUL News) below: