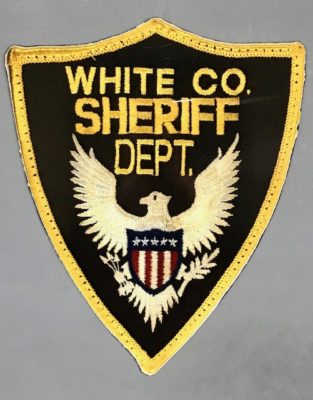 White County Sheriff Randy Graves is releasing a week's worth of activity by his department.  Most recently on Monday, Sheriff's authorities met with 32 year old Amy Ward in the lobby of the department.  The rural Carmi woman said she was there to turn herself in on a White County warrant for Domestic Battery.  The charge dates back to September 11th.  Ward was booked, bonded out to $300 cash plus booking fee and is due in court November 14th before Judge Dinn.
Also Monday, Deputy Michael Brown visited 604 Sixth Street in reference to a warrant check.  It was about a quarter after 3 in the afternoon when the deputy made contact with 26 year old Dakotah Jolley and informed him he was wanted on a White County warrant.  The charge of Deceptive Practices dates back to January 1st of this year.  Jolley was taken into custody, booked and bonded out a couple hours later to $250 cash bond plus booking fee.  Jolley will be due in court on November 14th.
A Maunie man is free on a recognizance bond following his arrest on Monday.  It was just after 2pm when a deputy arrived at 268 Maunie to serve a warrant on 43 year old Richard Hargrove.  He was wanted on a White County Failure to Appear warrant for No Valid CDL when required.  Hargrove was booked and released Tuesday morning at 11am.  The original charge dates back to September of last year.  Hargrove was found guilty in May of this year and given supervision.  Online records don't indicate the next step in the case.
On Tuesday October 4th, Larry J Judge of Grayville spoke to Officer George J Spencer of the White County Sheriff's Department via telephone in a reference to a theft that had taken place on his property located at 2434 County Road 2140 E in Grayville. Judge, who is the owner of the Snack Shack told Spencer that he runs the Snack Shack on the honor system for individuals to make purchases, and that he has a box on sight for customers to leave their money.  Judge stated that at the end of September someone had cut the top of the money box and removed approximately $35 in cash. Judge replaced the money box and discovered that during overnight hours of the 4th, someone had taken the box which had $25 inside it.  Judge stated that box is black with Money Box written in red paint on the outside..  Judge stated he does not know who may have taken the box. An incident report was filed by Judge. Spencer stated that a report will be made and placed on file at the White County Sheriff's Department.
Later in the evening, Deputy Matt Wicker served 27 year old Jason Sigmund Jr with a Failure to Appear Warrant from Edwards County. Sigmund was served the warrant while incarcerated in the White County Jail.
On Wednesday October 5th, Officer George Spencer responded to 113 N Jennette Street, Apt C in Enfield in reference to the theft of a motorcycle. Spencer spoke with Cody Henard who stated that he was the owner of the 2006 Suzuki 600GSXR. Henard described the motorcycle as black, with green accents, a metal roll cage around the engine, a small light bar mounted in the front light position and a flag mounted on the rear. Henard told Spencer that the motorcycle was taken sometime between 10:30 a.m. and 1:00 p.m. on the 5th and that the keys were with him so he's not sure how it was removed from the property, but that he was contacting the complex manager to see about possible surveillance video of the parking lot.  A report of theft of over $500 was signed by Henard and was placed on file at the White County Sheriff's Department. The vehicle was also placed in the LEADS/NCIC database. On October 6th, Henard reported to the WCSD that someone had contacted him and had located the motorcycle in a field. There was damage to the ignition, the seat was missing and other areas of miscellaneous damage. Henard is still waiting for video footage in hopes that it will provide him with footage of the theft.
Also on October 5th, Officer George Spencer met with 22 year old Tanner Buckman of Grayville, in the lobby of the White County Sheriff's Department. Buckman advised Spencer that he wanted to turn himself in on a White County Warrant. Buckman was wanted for Aggravated Fleeing or Attempting to Elude a Police Officer and bond was set at $1500 cash bond plus a $20 booking fee.  Buckman was taken into custody and booked in the White County Jail pending the posting of bond. A preliminary hearing has been set for October 26th.
On the afternoon of October 6th, 26 year old Derrick Nettles-Sewell arrived at the WCSD to turn himself in on a Coles County Illinois warrant for Failure to Appear. Sewell, who's address is listed in Mobile Alabama, was booked in the White County Jail where bond was set at $50 plus fees.
And on Friday October 7th, 34 year old Kyle Hebner of Mill Shoals reported to Deputy Jordan Weiss that his 17 year old neighbor had taken over $100 of his cannabis and a couple of his smoking bongs. Hebner reported that the incident had taken place two weeks prior at his residence. He stated he had given the father of the juvenile time to pay by the 7th and he had not. The investigation is ongoing.