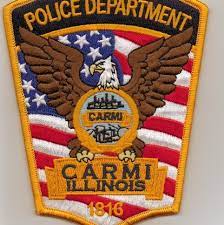 The Carmi Police Department took five into custody on a variety of charges Friday and Saturday.
Two area residents are being held in the White County Jail on drugs charges following a traffic stop. On Friday  morning , an officer with the Carmi Police Department pulled over 43 year old William A Edge of New Haven for a suspended license plate. He was then arrested for Possession of Methamphetamine, Unlawful Use of Property and cited for Operating a Vehicle with Suspended License Plate. His passenger, 39 year old Belinda A Vogt of Carmi, was also arrested for Possession of Methamphetamine.  Both Edge and Vogt were set to appear in court this morning. No bond was set for either individual.
On Friday afternoon, a phone call to the Carmi Police Department in regards to a domestic in progress resulted in the arrest of a Carmi woman. Officers responded to the call made by 54 year old Douglas C Watkins of 619 Oak Street and arrested 60 year old Robin L Watkins of the same address, on a warrant from a previous domestic charge. Bond was set at $300. Watkins was released on her own recognizance. Online court records have not yet been updated.
And a traffic stop in Crossville sent two White County residents to the White County Jail.  On Saturday at around 8:20 p.m. an officer working in Crossville stopped a 2004 Chevrolet Trail Blazier driven by 18 year old McKenzie Frederick of Crossville. She was placed under arrest for no Valid License and for Unlawful Display of Plates not Authorized for the Vehicle. The plates belong to a 2008 white Chevrolet coupe. Her passenger, Chase Conn was also arrested on White County Failure to Appear warrant and was also charged with Obstructing Justice for giving a false name and date of birth to the officer. Bond for Frederick was set at $250. She paid bond and was released. A court date for Frederick has been set for June 28th at 9 a.m. Conn is currently being held without bond in the White County Jail. A preliminary hearing has been set for June 8th.