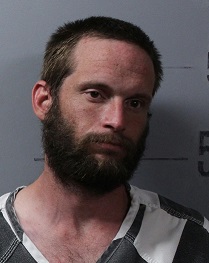 A Fairfield man is being held in the Wayne County Jail after running from authorities during an attempted traffic stop Tuesday evening. At approximately 10 p.m. a Wayne County Sheriff's Deputy and Wayne City Police Officer attempted to conduct the traffic stop. 37 year old Eddie Morton was known to be wanted on warrants out of Wayne and White County. Morton refused to stop the vehicle and a pursuit ensued. Morton jumped from vehicle while it was moving and ran from the scene, causing the vehicle to crash into trees. Deputies and Wayne City Police chased Morton on foot but lost him in a wooded area. During a search of the vehicle Deputies located a plastic bag of Methamphetamine as well as open vehicle titles.
Additional Sheriff's Office Personnel responded to the area and a perimeter was established around the woods. WCSO K9 Tiko was deployed into the woods and began tracking Morton. After a lengthy track Morton was located and taken into custody.
Preliminary Charges on Morton are Possession of Methamphetamine less than 5 grams, Use of Property for Methamphetamine Offenses, Fleeing and Eluding Peace Officer, Reckless Driving and Possession of Open Illinois Vehicle Title. Morton received two citations for Driving While License Suspended and Improper Use of Registration.
Morton was wanted on a Wayne County Warrant for Possession of Meth. The warrant out of White County was unspecified.
Morton is scheduled for a First Appearance in Wayne County Court on August 8th at 1:00 p.m.