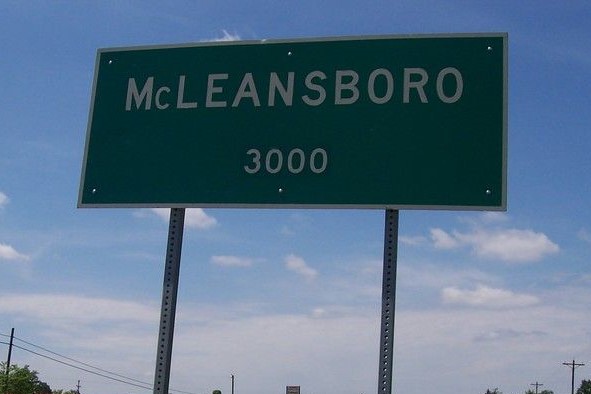 A three hour plus McLeansboro City Council meeting with a marathon executive session took place Tuesday evening.
Scott Mareing was there and has the details…
The alderman approved the demolition of a home at 211 South Locust Street as soon as the city receives the title, and the demolition of a home at 508 South Jackson Street pending closure on receipt of the property, with only Alderman Tom Maulding voting "no" on the latter.
The board approved using USDI, which is located throughout the Midwest, to provide the city with engineering and operational services at a cost of $62,400.  They will help make sure paperwork is correct, keep the city within regulations, and will be more efficient.
Mayor Chad May gave the first reading of an ordinance of an amendment to the City Code of Mcleansboro that would take effect on March 8th.  It states that the regular meetings of the City Council should be held according to a schedule proposed by the City Clerk and be approved by the City Council at the Council's December meeting.  The schedule contains the dates, times, and locations of the meetings for the next calendar year.  Changes to the schedule may be made at the discretion of the Mayor in consultation with the City Clerk.  Adjourned meetings may be held at times that may be determined by the Council, and public notice of regular meetings and changes to those meetings would be given in accordance with the Meetings of Public Agencies Act of Illinois.  With the first reading of the ordinance, it allows the public to give feedback and the ordinance would be approved at the March 8th city council meeting.
The city will publish a RFP, or Request for Proposal, for auditing the city finances.  It will allow the accepting of bids for a new city auditor.
And the board approved the lease agreement between the University of Illinois Extension and the City for the "Gift Garden".
The tearing down of the old water tower has begun.
It was noted that the gas rate has not changed in 15 years.
ROC One Stop requested having limited Sunday liquor sales from 1 to 5 PM.  Mayor Chad May and the aldermen didn't have a problem with it, although it would require a change in the City Code.  They will look into it and discuss it at the March meeting, then potentially pass it in April.
Finally a two hour and eleven minute Executive Session was held for discussion on employment of a specific individual.  The council approved accepting applications for candidates for an opening in the Electric Department and the promotion of Robert Menard as Foreman of the Gas Department.
The board adjourned at 9:11 PM.