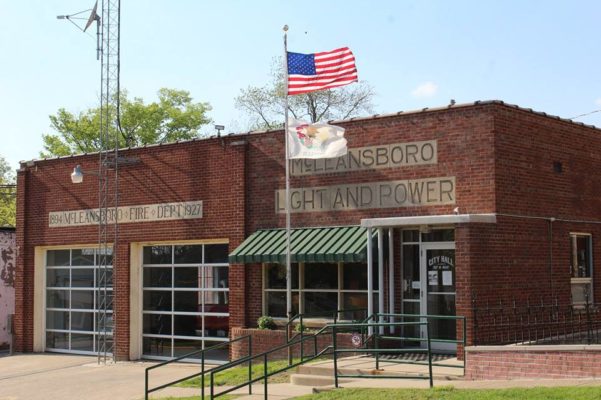 Mayor Dick Dietz was unable to attend the meeting, so the aldermen appointed member Tom Maulding to be Mayor Pro Tem.
Chase Partain was sworn in as the new police officer.
Rodney Campbell announced his retirement from the Volunteer Fire Department due to injuries he suffered in an auto accident.
Police Chief Nathan Tayor asked the council to get out the word to the various liquor establishments in the city to get them to close up at the proper times after last call, as there's been a problem in the past with patrons lingering after hours. They agreed to send each one a letter concerning the matter and will create an ordinance containing guidlines for their closings, possibly at next month's board meeting.
Discussion and/or action on the Hamilton-Wayne Counties Enterprise Zone and on paassing an ordinance adopting the National Fire Protection Association's Life Safety Code were tabled due to people involved in the two issues being unable to attend the meeting.
The possible adoption of a net metering policy was put on hold, but the aldermen authorized attorneys to create an ordinance reflecting net metering for the city. Net metering is a system in which solar panels are connected to a public utility power grid and surplus power is transferred to the grid, allowing customers to offset the cost of power drawn from the utility.
They accepted a bid from Kyle Ford for the demolition at 501 East St. Charles Street and authorized accepting bids for demolition of three properties from the 2020 tax sale.
In other business, the city will request bids for summer mowing of various areas.
They accepted the low bid of $33,690 including trade-in from Teffertillers Motors for a new work truck.
They will be taking applications beginning March 1st for city pool workers, with hiring to begin in April.
The board tabled improvements at Kiwanis Park until more information becomes available and agreed to consider putting a committee together on the relocating of City Hall, although they decided to hold off on any discussions due to Mayor Dietz's absence.
The board went into a 45 minute executive session to discuss employment of a specific individual and decided to advertise for a laborer in the gas department for a 30 day period starting today.