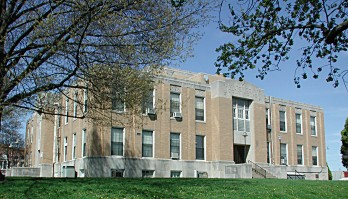 The Mcleansboro City Council met last night at the Hamilton County Courthouse.
The council members approved a pay request for the water tower totaling $136,818.73.  $120,900.60 from Caldwell Tank for the tower and $15,918.13 from Shawnee Professional Services for the engineering fees.  The project is now 50% complete and could be finished by late August.
They tabled bringing the main water line under the highway onto the industrial park in order to have a map drawn up and to get cost estimates.  The bulk of the cost will be from putting the water line under the highway.
Also tabled was action on the Annual Financial Report and Independent Auditor's Report and an ordinance for the Annual Appropriations for the city until an upcoming special meeting.
The committee charged with looking into renovation and construction of City Hall are shortly going to get a look at the city hall building in Nashville, which is similar to Mcleansboro's.
They're still going over concerns on amending parameters for a beer garden liquor license, such as zoning issues and time constraints.
Kenneth Ganoe and Rodney Campbell were honored for their years of service at the Fire Station.  Mayor Dick Deitz presented the men with plaques commemorating Ganoe's 21 years and Campbell's 34 years with the department.
A bucket for the electric truck was purchased for $6,200.
The highest of eleven bids for the 2001 Case International Tractor was accepted from Adam Link in the amount of $7,100.
The council approved a TIF grant reimbursement for Karcher Automotive for $676.54 and a TIF reimbursement for Wuebbels Repair and Sales for $4,546.52.
They agreed to retain the services of Bernadi Securities to monitor the city's bonds.  Bernadi will not be paid until they do the work.
And an ordinance was passed authorizing the issuance of taxable electric revenue refunding bonds Series 2020, providing the details of such bonds and for payment of the principal of and interest on such bonds, as well as related matters.
A public hearing was held prior to the regular meeting to inform the public of the grant application received from Natalie Joseph's for the Downstate Small Business Stabilization Program.  The council approved a resolution of support for her to apply for the grant.
And after a 30 minute Executive Session to discuss personnel, Jim Morris was hired as Fire Chief.