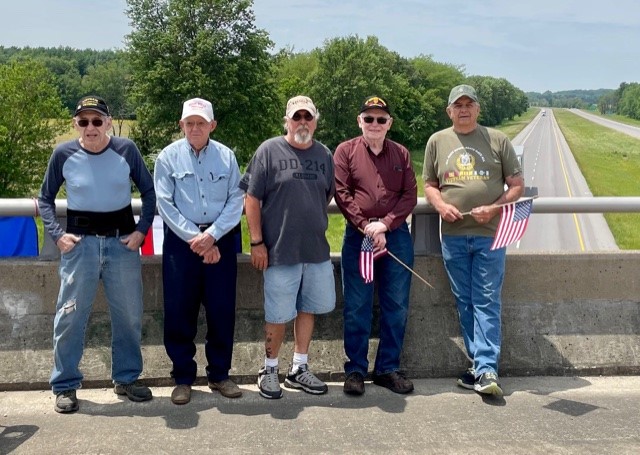 Motorcycle riders from across America are en route to Washington D.C.  Tuesday afternoon, they passed through White County where a small but important group hung and waved flags from a County Road overpass north of Carmi as they made their trek.  Five veterans were in attendance including Bill Jones, Tom Smith, Merv Terrell, Dave Daniel, and Ray Mitchell.  The riders began their day in Wentzville, Missouri and will finish their day in Corydon, IN.  Mitchell was drafted and served from 1972 – 1974.
Bill Jones and Tom Smith…
Merv Terrell was enlisted from 1963 to 1968 in the Navy.  He experienced first hand how hostile and also how kind Americans could be.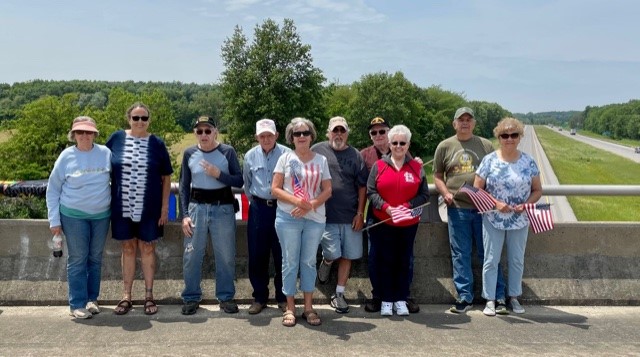 Daniel recalls how rough Vietnam was on aviators.
The Run for the Wall organization's motto is "We Ride for Those Who Can't".  Mitchell says Vietnam happened at a time when it seems people didn't recognize they could oppose the war without specifically opposing the soldiers.  Smith says that's what makes an event like this so special.
Memorial Day is Monday, May 30th.  The White County VFW and Carmi American Legion will host a ceremony at 11am on Monday at Veterans Memorial Park.