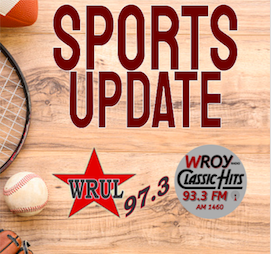 On Friday the Carmi-White County Bulldog basketball team defeated Flora by a final score of 61-45. Carmi jumped out to a lead midway through the first quarter, and never looked back. Hanging on for the win to improve their record to 6-1 on the year. 
Mitchell Edwards led Carmi in scoring with 18 points, including six 3-pointers. Bryce Conner scored 17 points, Tyler Goemaat scored 9, Gavin Holloman scored 7, Trey Dixon scored 6 and Landon Driscoll scored 5.
The Bulldogs will have a tough test tomorrow night when they travel to Benton to battle the Rangers who are also 6-1, after losing to Herrin on Friday 47-46, and defeating Mt. Carmel on Saturday 63-56.
Tomorrow night's game can be heard on 97.3 FM WRUL and fans can also watch on the WRUL Sports YouTube Channel.
In other high school basketball action from Friday Night,
Hamilton County defeated Edwards County 41-36
Eldorado dominated Fairfield 63-27
Hardin County defeated Carrier Mills 65-35
Gallatin County defeated Pope County 67-43
Mt. Carmel defeated Lawrenceville 53-44
Sandoval got past Grayville 76-67
Harrisburg defeated West Frankfort 61-39
Murphysboro defeated Massac County 47-43
and NCOE defeated Sesser-Valier 49-41
The CWC Girls basketball team will host Mt. Vernon Indiana tomorrow night at McDougal-Evers gymnasium. The Lady Dogs are 2-8 on the year, and they'll look to snap a 4 game losing streak.