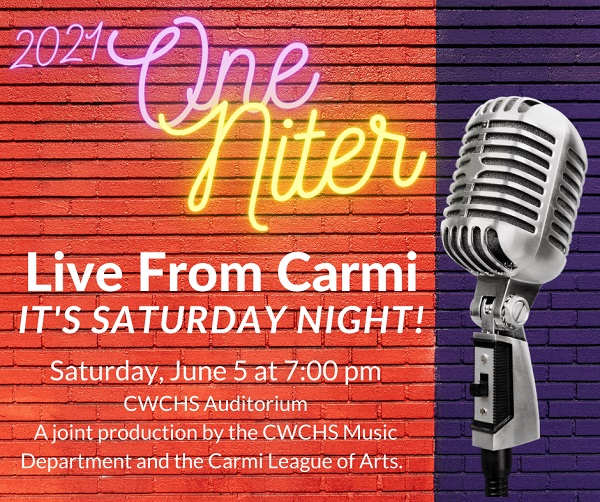 Live from Carmi, it's Saturday Night! The CWCHS Music Department and the Carmi League of Arts are joining together to present this year's One Niter on Saturday, June 5th at 7pm in the CWCHS Auditorium.  The One Niter is a variety show of skits and musical numbers that will be showcasing Carmi White County's current high school talent as well as many former alumni making their return to the stage.
We interviewed organizers Sherry Passmore and Lynn Cantrell about their challenges with putting this event on after having it canceled the year before due to the pandemic.  Passmore had this to say:
Passmore went on to say that students felt discouraged to tryout given the lengthy break since their last performance in 2019:
We were lucky enough to hear the pair share a secret about a special guest that is set to make an appearance this Saturday
Tickets are no longer being sold in advance, but consider getting there early to ensure having a seat, as there is limited seating and tickets are sold on a first come first serve basis. Again, this event takes place at the CWCHS Auditorium at 7pm on Saturday June 5th, don't miss it!