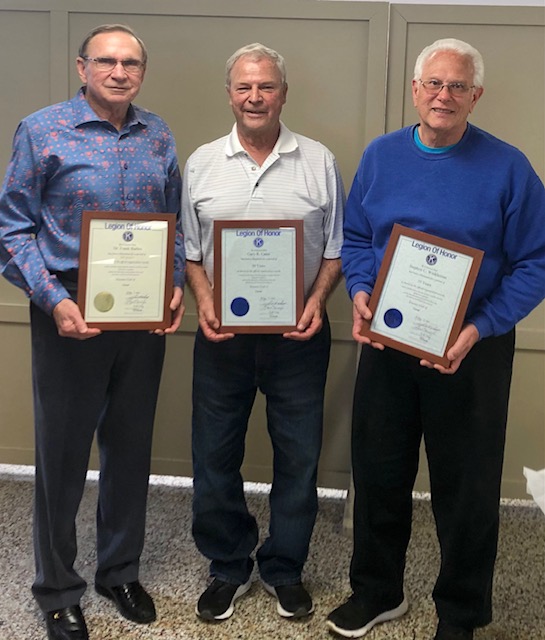 In life, we celebrate longevity and commitment.  50 year anniversaries are impressive, or at least they carry some more weight than 5 years.  Typically, those commitments are to an individual or a workplace.  Occasionally, there are individuals who additionally  commit to serving their communities and those feats are worth some notoriety as well.  The Kiwanis Club has added 3 more individuals to it's Legion of Honor.
Inducted into the club in 1990, Gary Cates, owner of Cherry Street Automotive, has been largely responsible for keeping the fleet of Kiwanis Club vehicles running.  The club has it's iconic Corn Car which resembles a corn cob, a 1963 Cadillac, a converted bus for Corn Day royalty, and also a water wagon.  Toby Brown served as Master of Ceremonies for the day and looked back on what else happened in 1990, locally…
In 1985, Steve Winkleman joined the club.  The respected alderman and barber shop owner gave a touching brief of what it means to be a Kiwanian and the power of community fellowship with a nod to the impressive history of the club and it's membership.
And finally, the club honored Dr. Frank Barbre who has been a distinguished Kiwanis member since 1970 giving him 50 years as a Kiwanian.  It was in that year that he and his wife Sandy came back to Carmi from Lawrenceville where they would establish illustrious careers in education.  He says his life has come full circle.
In local sports that year…
Next Thursday, the Kiwanis Club will hand out it's annual Educator of the Year award.