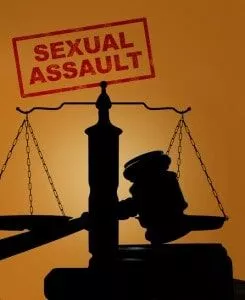 A Norris City man will spend the next 54 years in the Illinois Department Of Corrections for Predatory Criminal Sexual Assault of a Child, a class X felony.  After a nearly three hour contested sentencing hearing in White County Court Monday, Judge Thomas Dinn sentenced 42 year old Ronald Howell to the IDOC where he will have to serve a minimum of 85% of the sentence before being eligible for parole. Howell was found guilty on 6 counts of Predatory Criminal Sexual Assault of a Child and one count of Attempt Predatory Criminal Sexual Assault of a Child, a class 1 felony. In the event Howell is paroled he will be on Mandatory Supervised Release for a time of 3 years to natural life on each charge.
Howell was found guilty of the seven counts by a jury of his peers following a weeklong jury trial in January. He was represented by Attorney Paige Strawn out of Mt Vernon IL during the jury trial but she withdrew her representation prior to the sentencing hearing. During the sentencing hearing Howell was represented by Scott King and Tonya Craft out of Atlanta, Georgia.
States Attorney Denton Aud has prosecuted the case throughout the entirety of the proceedings. Illinois State Police was the investigating agency and Judge Thomas Dinn was the presiding Judge during the trial and the judge that imposed the sentence. While imposing the sentence, Judge Dinn advised Howell that having heard the evidence during trial he would have certainly found him guilty if it had been a bench trial instead of a jury trial.
The case has been set on October 10, 2023 for a hearing on post-trial motions to be filed by the defendant.