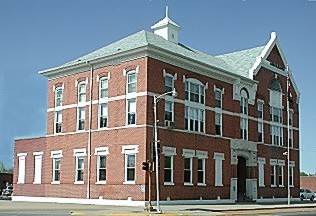 A jury consisting of 7 men and 5 women, after an exhaustive week of testimony and court proceedings returned a verdict at around 9:30pm Monday night. 42 year old Ron Howell has been found guilty about half an hour after the jury reported they were still hung. Deliberations began following closing arguments delivered Monday afternoon in White County court.  Proceedings got underway last week with the jury in place and States Attorney Denton Aud giving an opening statement.  Aud rested on Friday; the same day one of the jurors was excused after admitting in part to discussing the case and her opinions of witnesses to co-workers.  She will now get her own day in court on charges of contempt.
Howell was arrested in December of 2022 and charged with multiple counts of predatory criminal sexual assault and also one count of attempted predatory criminal sexual assault.  The alleged victim, now a teenager says she was between the age of 5 and 9 when the offenses occurred.  The victim herself testified in the case as did defendant Ronald Howell, who was a relative of the victim by marriage at the time of the alleged crimes.  On Monday, the defense argued by calling Howell's sister and then Howell himself before resting just after 11am following a cross examination from States Attorney Aud.
Closing arguments began about 1:30pm.  Aud began by quoting Erik Erikson saying that the most deadly of all possible sins is the mutilation of a child's spirit.  He consistently referenced his expert witness, Sheryl Woodham of the Guardian Center, the local Child Advocacy Center.  He called Howell a textbook case and said that while he didn't deny that Howell was definitely polite; he was selfish and guilty.  Aud finished at just before 3pm.  Defense counsel Paige Strawn then spent the next hour attempting to poke holes and point out inconsistencies in the case saying if anyone was manipulative it was the alleged victim referring to language the 13 year old at the time utilized when disclosing the allegations to her mother and then theatrics at age 15 in the courtroom coming in with a stuffed animal to testify.  Aud then took 30 minutes to rebut saying, "don't let him [Howell] fool you.  He's guilty."  Following instructions from Judge Thomas Dinn III, the jury was recessed to begin deliberations shortly after 4pm.
Sentencing has been scheduled for March 14th at 1pm.