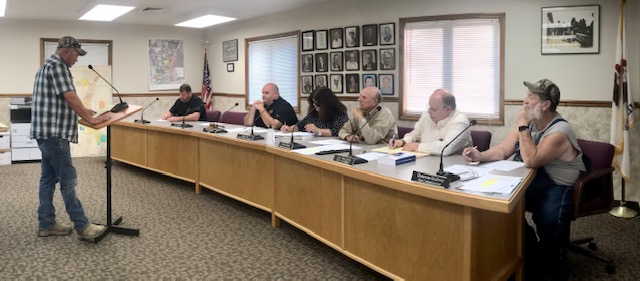 Story courtesy of Jeremy Smith for TOC News
The Grayville City Council met in regular session Monday night. After approval of the consent agenda, the Treasurer reported $1,502,426.89 in the Restricted Account, $928,066.40 in the Investments Account, and $163,950.85 in cash available for operations, for a total of $2,594,444.14.
Commissioner Jordan reported the city received three oil revenue checks since the last meeting in for the amounts of $597.12, $1,271.70, and $1,295.58. While Mayor Thompson reported Officer Donny Watkins had begun his police academy training on Monday.
In Old Business, it was reported that one property, the location of a house fire, has been demolished, and the council approved change order #4 with Wiggs Excavating for water line replacement.
In New Business, the owner of Osbee's (Oz – Beez) Unique Boutique addressed the council regarding their request for revolving loan assistance. The business has been running through online formats for around a year-and-a-half and is looking to open a brick and mortar in Grayville. Osbee's would offer the area a variety of items including clothing and holiday gifts. The business should be open for foot traffic by Grayville Days, with a Grand Opening tentatively slated for Mid-October. The motion was made to direct the City Attorney to develop the agreement for the next meeting.
The Council approved the Utility Gas Management, PEFA, Inc Hedging Agreement for gas prepayment transition moving forward, stating the city currently has gas through the winter months of 2022.
The Mayor and Council along with the City Attorney decided to move forward with the crafting of an agreement for a Campground Host to help monitor the campground year-round and have decided to set the camping limit at two weeks, stating after which the camper must remain gone for a minimum of one week before returning. Mayor Thompson is already in talks with the new host.
The Council also approved blocking off streets from the 4-Way Stop to North and South Main, as-well-as East and South Mill for the Grayville Chamber Car Show on October 3rd, the Lions Club request to solicit donations for Candy Day on October 9th from 8 to 11 a.m., and the first reading of Ordinance 917 to approve the withdrawal of Creal Springs and Tamms from the Interstate Municipal Gas Agency.