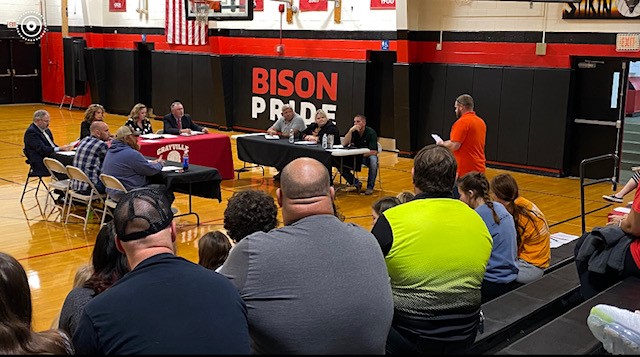 story courtesy of Hailey Winkleman for WROY/WRUL News
A special meeting was called by the Grayville Board of Education on Monday evening to discuss a recent incident at the high school. The meeting was promptly called to order at six o'clock, and the board called roll and welcomed visitors. 
After the formalities were through, the board called for public comments specifically about the incident in question, asking if the family would like to speak first. Kyle Bassnet, the father of the student involved in the incident, came forward to speak.
Bassnet read from a prepared speech on a sheet of paper, his voice low and wavering. He explained that his daughter was "violated" on Thursday, September 29 by "untrained" employees Rita Rhinehart and Dawn Kleinschmidt at the school performing a strip search of her person. "They had no right," Bassnet said. "Strip searches in Illinois are not supposed to be legal." 
Bassnet met with school administrators Julie Harrelson, Jeff Fetcho, and Levi Johnson on Friday, September 30 about the ordeal. Allegedly, the three representatives agreed that the school was at fault and admitted that none of them know how to properly conduct a strip search.
Addressing the claim that the search was consensual, Bassnet explained that he and his wife did not realize it would be more than a pat down. "I wanted to keep this civil," Bassnet said. "At no point in time did [we] think my daughter was going to be violated." 
Despite finding nothing on her person, the student was allegedly declared guilty and threatened with a month of detention after the search. "School is supposed to be here to help protect the students, not violate them," Bassnet said. Then, regarding principal Levi Johnson: "I am going after his license. I am going after his job."
Bassnet requested that any further correspondence from the school board come to him in writing, then returned to his seat.
At this time, the board asked if anyone else would like to come forward with comments about the incident. After a long, deafening silence, they then asked for any general comments from the public. Again, no response. The board announced that they would enter a closed session and immediately adjourn, then left the room. No further public comments were made in the meeting by the board or the public.
As people filtered out of the gymnasium, students lingered to talk with one another about what happened. When asked for comment they said that the meeting "basically covered" their thoughts:
"She was violated – point blank."