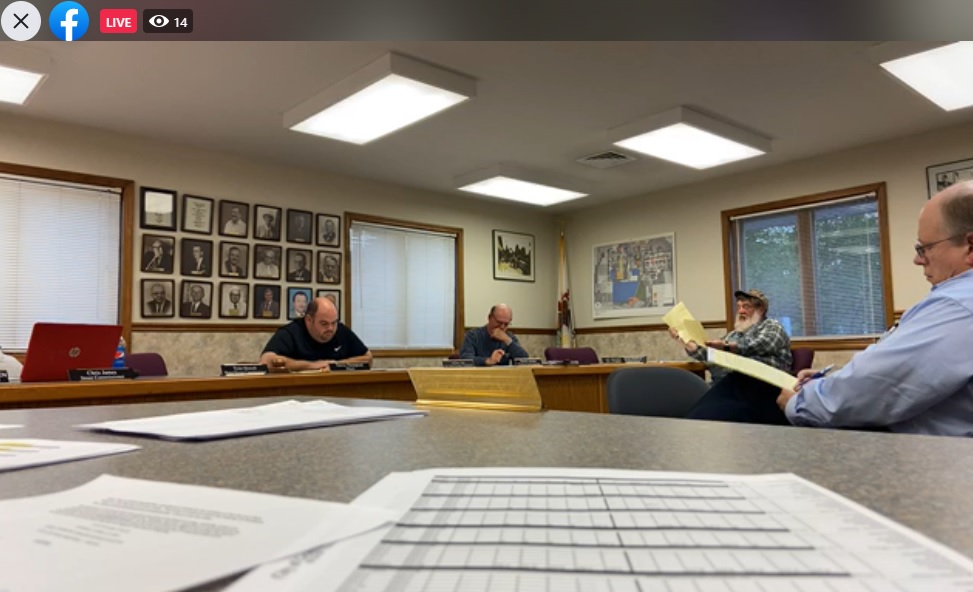 Some downstate lawmakers, business owners and even city officials have been calling for the stay at home order to be lifted because of the low numbers of CoViD-19 cases in certain areas.  You can add Grayville Commissioner Don Baldwin to that list.  During Monday night's Grayville council meeting, streamed live via facebook despite some audio issues, Baldwin said, "I think it's time we open this town back up.  We could use some common sense, maybe some directives, but it's time for our libraries, churches, definitely hair dress shops, downtown and restaurants to be opened.  We're not Chicago.  We don't have the problems of the big cities.  But if we could use some common sense, we can try to get back to normal.  Our businesses are hurting and most don't qualify for help from the government.  I've heard several other small towns in southern Illinois are opening back up."
Commissioner David Jordan said he agreed and felt it was ridiculous, but said he didn't know where the authority lies and was unsure of what [the City of Grayville] could do.  Grayville Attorney added, "As a rule, if you've got a state mandate and a local ordinance is more restrictive than the state, then you can enforce it.  If it is less restrictive as a rule, you cannot enforce it.  That's my general understanding of the battle you're fighting."
Also in Grayville Monday night, an executive session held for setting of a price for sale or lease of property at the I64 plaza resulted in a split vote once council returned to regular session.  Commissioner Chris James made a motion to give Mayor Travis Thompson permission to unilaterally negotiate with two individuals (one an existing business owner there, the other an individual who wants to open a business there) on pricing.  Don Baldwin provided a second and the two voted yes.  Commissioners David Jordan and Tyler Howell however objected.  The motion did pass with Mayor Thompson's tie break vote.
Howell later said he wanted to postpone the raising of utility rates given the CoViD-19 situation raising concern from Finance Commissioner David Jordan.  "I think you've got several issues you need to look at if we're not going to raise rates.  Water tower project needs to be cancelled.  Water Line Grant Project needs to be cancelled.  We don't have a funding mechanism.  We can't go forward with those projects.  We've already got a 2% increase in salaries for personnel that we usually raise our rates to cover those and those raises are going to go into effect regardless of what we do.  Yeah, I don't like to raise rates either.  But if that's the case, we need to contact McGuire's; we need to contact CDAP, and make sure those projects can be put on hold or see what we need to do.  There's no way we can move forward on those projects without bankrupting the city, I'm sorry."
Discussion and questions then turned to whether they would be able to postpone the projects and still keep the current financial agreements or whether they might risk a higher cost of the bid by delaying.  A 2% water increase is already built into a previous ordinance from May 2017, but it's said that won't come close to covering the cost of the projects meaning a meeting would need to be set to calculate the number of households and the dollar amount needed to be raised to cover the cost.
Commissioner David Jordan then revealed the 2019/2020 Amended Budget numbers showing revenue of 3,058,925.33 with expenditures of 2,739,005.81 leaving a surplus of just under $320,000.  That budget was approved unanimously.
The 2020/2021 budget was also revealed following the public hearing from earlier in the evening.  Revenues are expected to be $3,759,710 with expenditures at 3,706,345 leaving a margin of $53,365.
Lastly, Grayville Council approved generator maintenance contract to be performed by Hoesli Diesel Service the current contract holder.  Mayor Thompson and Councilmen Tyler Howell voted no instead wanting to go with a company a Grayville resident is employed by.  Hoesli provided the low bid however.
Grayville will hold a public hearing via Go To Meeting on Thursday, April 30th at 7:30pm for the purpose of reviewing 2 Downstate Small Business Stabilization Grant Applications.  Details on how others can take part in that public hearing are still to come.