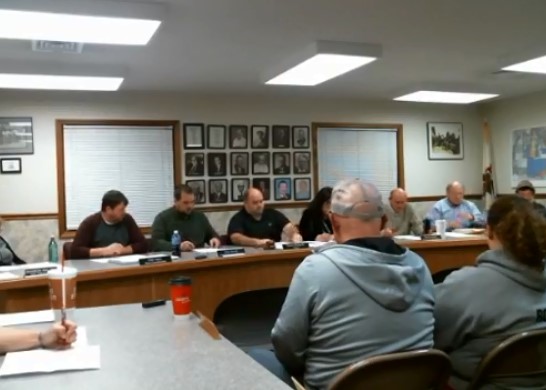 By Jeremy W. Smith, T.O.C. News
The Grayville City Council met in regular session Monday night with all commissioners' present.
The meeting opened with approval of the consent agenda, there was no report from the Police Chief or Utility Manager.
The Treasurer Reported one million, one hundred twenty-seven thousand, eight hundred sixty dollars and eighty-two cents in the Restricted Account, nine hundred twelve thousand, two hundred seventy dollars and ninety-six cents in the Investment Account, and one hundred eighty thousand, sixty-one dollars and forty-four cents in Cash Available for Operations: for a total of two million, two hundred twenty thousand, one hundred ninety-three dollars and twenty-two cents.
In an update from last meeting: Commissioner Jordan reported that the city decided to forego the City Employee Luncheon, due to COVID concerns. Instead, the city opted to purchase 8 gift cards from both Guadalajara Mexican Grill and Chappy's Bar & Grill. And the council voted unanimously to continue with temporary executive powers and disaster declarations.
In Old Business:
The council approved a quote from AEG, for no more than $500, for a study on a potential building of interest regarding the new location for the Police Department. Due to the Holiday Season, the council has yet to receive a 2nd bid for electric upgrade at the campground. Ordinance 903 – No Parking on West North Street, passed unanimously. Chief Burrows said a few residents were unreachable due to Holiday travel and are being notified of the impending change by letter.
The council suspended the second reading on Ordinance 905 and moved on to approve the sale of real estate at 407 N. Middle Street. The city had only received one bid for $500 from Rick and Terry Conner. The transfer documents have been prepared.
Ordinance 906 regarding parking of recreational vehicles on city streets was tabled until Spring, to see how many violators there are and explore all other options. Commissioner James voiced his concerns that people who park their boats in front of their houses would be affected, and that the council doesn't need to create another ordinance. No changes have been made to the draft ordinance at this time.
In New Business:
The council voted unanimously to approve a request for a developer's agreement TIF #2 for 50% of purchase price, not to exceed $75,000 for the city's portion, for a grocery store, the name of the people involved, and location are nameless at this time. City Attorney Walden stated, "if there is a representation from the Mayor and the Economic Development Coordinator with sufficient background check, the city can make a commitment." Currently there is $275,000 in TIF #2 funds available, TIF #2 covers mostly the Edwards County portion of Grayville.
Ordinance 907 authorizing intergovernmental agreement with RMA was tabled, and zoning considerations for a billboard at 209 S. Court Street, McPherson Outdoors, was tabled. The Illinois Department of Transportation denied McPherson's application due to what I.D.O.T. called "Spot Zoning" by the city. The city denies any "spot zoning" citing that half of Court Street contains commercial or unimproved real estate. Attorneys for McPherson Outdoors have filed seeking a review of the decision.
The next city council meeting is scheduled for Monday, January 11th at 7:00 p.m. at Grayville City Hall.