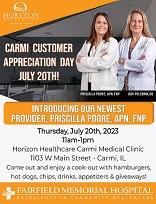 Fairfield Memorial Hospital Horizon Healthcare Carmi Medical Clinic is cordially inviting the
public to attend a Customer Appreciation event on July 20th! To celebrate our wonderful team at
the Carmi Medical Clinic and to introduce our newest provider, Priscilla Poore, APN, FNP,
officially to the Carmi Medical Clinic.
The Come-And-Go Customer Appreciation Luncheon will be held on Thursday, July 20th from
11:00 am to 1:00 pm at Horizon Healthcare Carmi Medical Clinic. Come out and enjoy a cookout with hamburgers, hot dogs, chips, drinks, appetizers & giveaways! The Horizon Healthcare
Carmi Medical Clinic is located at 1103 W Main Street, Carmi, Illinois.
For more information about the Customer Appreciation Luncheon or our services, please contact
Shauna Williams, FMH Marketing Director at 618-847-8242, or Mary Knight in FMH
Administration at 618-847-8243.
We hope to see you there!