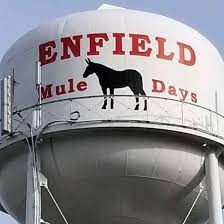 The Enfield Village Board met for just over an hour Tuesday night for its regular monthly meeting.  Scott Mareing was there and has this report…
In the pursuit of a police officer in the wake of the resignation of Mark Worlds, the village has been advertising for applicants, and so far only Mark Wheeler has replied for the position.  The board members think he would be a good fit as he was formerly in law enforcement.  He will be contacted to be interviewed about the job.
The home at 600 West Main Street has been torn down at a cost of $4,500.  The village will advertise for bids on the property in the Wayne County Press for three weeks, to be purchased "as is" with a minimum reserve bid of $3,500.  The village has the right to accept or reject any bids.
The water project has been completed, painting has been done on the water tower and the lack of water pressure in some areas of town have been fixed, the new culvert has been put in at the Hickory Street Bridge, most of the street lighting has been installed, and work is still being done on the dog pen.
The board agreed to donate $800 for the July 4th fireworks display
Emily Brinkley of the Norris City Athletic Association wrote a letter to the board asking them to help pay for the special dirt on the infield of the ball field, and they agreed to donate $500.
There are several properties in the village that need to be cleaned up.  A list of those properties will be drawn up for the July board meeting with action to be taken concerning them.
The board members were reminded of the Hazard Mitigation Planning Meeting to be held on July 17th at 6 PM at the White County Fairgrounds in Carmi, to inform the public of contingency plans in case of natural disasters and to get input.