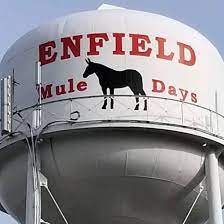 The preliminary Fiscal Year 2023 budget was approved.  Final approval of the budget will be at next month's meeting.
The current phase of the Water Project is almost completed.  The next phase is the installing of meters after the first of the year.  They are still waiting on the sewer grant.
Concerning the street lighting, the village is waiting to hear from Ameren and will probably wait until after Mule Days to finish the work.
There have still been no bids on the property at 600 West Main Street.
And the village is still looking into purchasing a Ford F250.
The employee credit card program is going well.  Everyone using them is asked to get a paper receipt for each purchase.
The board decided not to make any donation to the Southern Envy travelling softball team, which is a fast pitch team from Norris City.
Warhorse Ministries would like to move to Enfield and use the grade school and are willing to pay the utilities to the village.  They are currently set up at RIG Ministries in Carmi.  Enfield is going to try to set up a meeting with the ministry and hear a proposal, either in person or possibly at a village board meeting.
The dog pen is in a temporary holding pattern and the village is looking for a new Animal Control Officer.  Residents in need of help are asked to contact White County Animal Control.
The new squad car for the Police Department is in.
Main Street will be closed off for the annual Car Show on October 21st.
And Halloween Trick-or-Treat hours will be on October 31st from 4 to 8 PM.
The board went into Executive Session at 7:37 PM.  No action was expected to be taken.