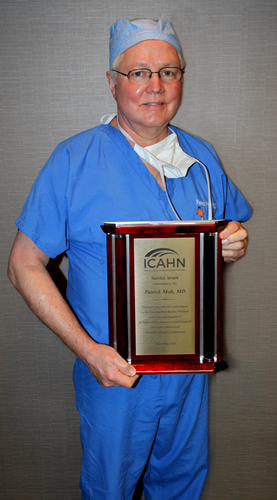 Dr. Patrick Molt, FACS, Chief of Surgery, Fairfield Memorial Hospital, received the Illinois Critical Access Hospital Network's highest award for service during ICAHN's 2020 Virtual Annual Conference, held November 17th via Zoom.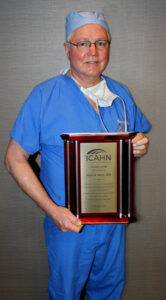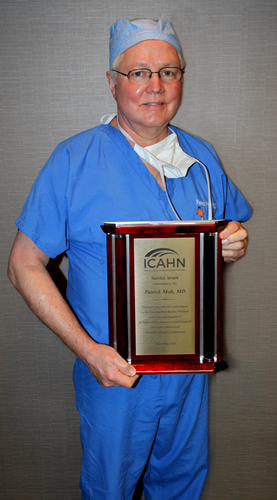 Dr. Molt has served on the ICAHN External Peer Review Network (EPRN) provider panel since 2008, and to date, has completed over 150 chart reviews for ICAHN member hospitals.
"Dr. Molt has been a valuable asset to our organization and our member hospitals for many years," said Pat Schou, ICAHN Executive Director. "He has the clinical expertise necessary to perform a careful and confidential review of any surgeon in our hospital network. His work has helped numerous hospitals improve the quality of care provided by their medical staff, and for that, we are grateful."
ICAHN's EPRN assists member hospitals with improving quality of care by monitoring the performance of their medical staff and identifying areas that need performance improvement. Panel members, like Dr. Molt, are selected based on having active medical staff status at an ICAHN member hospital, at least one year of rural provider experience, a letter of nomination or recommendation from a hospital CEO, and a completed application verifying credentials.
"Fairfield Memorial Hospital is blessed to have someone of Dr. Molt's experience, knowledge, and integrity taking care of our patients' healthcare needs. He is always willing to give his time to help others to learn and grow. He is the epitome of Service Excellence and he truly has a caregiver's heart." stated Katherine Bunting-Williams, Ph.D., FMH Chief Executive Officer.
Dr. Molt received his undergraduate degree from Washington University and professional degree from Mount Sinai School of Medicine in New York. He completed his surgical residency at Mount Sinai Medical Center in 1983. He began practicing in 1985, after finishing a surgical oncology fellowship at Memorial Sloan-Kettering Cancer Center, New York.
Dr. Molt has been practicing in his hometown of Fairfield since 1999. He serves as an adjunct professor for Rush University Medical Center – John H. Stroger Jr. Hospital of Cook County Integrated General Surgery Program since 2017. Dr. Molt also serves as the Chief of Surgery and as President of the Fairfield Memorial Hospital Board of Directors.