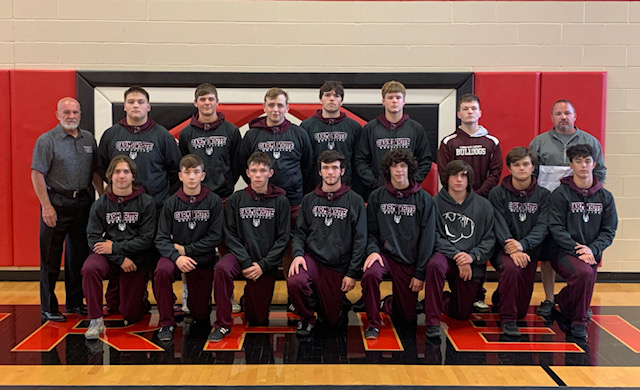 Coach Terry Gholson's Carmi-White County Wrestling team has wrapped up it's season finishing 12-8 on the year.  That record is a bit misleading when you take into account the cagers had to forfeit matches in 5 of the 14 weight classes all year long.
In the Black Diamond Duels meet, CWCHS outmaneuvered Goreville by a score of 48-30 and then beat Trico 42-23.  The Bulldogs dropped the championship to Fairfield 52-25.  For scope, the team was forced to dig out of a whole each match giving up 24 points by forfeit in each round.
Wednesday, the team out classed Mt. Carmel by a 44-18 score.  There were only 3 head to head matches according to Gholson.  In the 220 pound division, Nelson Rider won 3-0.  At 138 pounds, Dylan Ackerman won by injury default after suffering from an illegal slam and being unable to continue.  Warren Legg (170 pounds), Isaac King (180 pounds), Blake Pollard (195 pounds), Titus Wood (285 pounds), Layne Gwaltney (132 pounds), and Cody Mercer (145 pounds) all won by forfeit.
Coach Sarge Gholson says he's very happy with the effort his team put out all year and is expecting some of the squad to be honored with conference awards.  A zoom meeting is scheduled for Friday in which coaches will gather to vote for the season's best.
Top wrestlers for Carmi-White County this season include Blake Pollard who went 18-1 as a senior, Titus Wood 16-1 on the year, Isaac King went 14-2, Cody Mercer went 13-5, and Nelson Rider went 13-5.  Pollard is the only wrestler graduating.  Wood and Mercer are Juniors, King a Sophomore, and Rider is just a Freshman.
Special thanks to Coach Gholson for providing information and the photo.