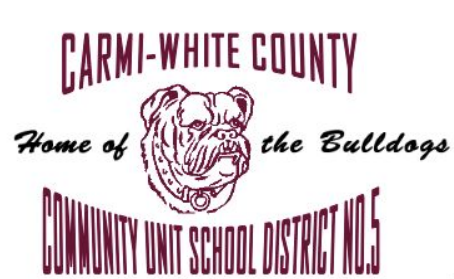 The Carmi-White County School Board met in its regular session Monday night.
A fair amount of people, although about half of the 100 or so that attended last month's meeting, were at the Junior/Senior High School cafeteria for the review of the 2021-22 Back-to-School Plan.
Board President Pete Fulkerson urged those in attendance that took off their masks when they entered the building to put them back on and a few complied. Everyone was given five minutes each to voice their opinions and only four took advantage.
Suzy Tomm, a Special Education teacher at the Washington School, brought a CO-2 monitor and wore it with her mask on to demonstrate how high levels indoors are unsafe to breathe in.  She said 5,000 particles per million is the legal limit and she was breathing in 8,200 particles per million in just a couple of minutes.  Munerva Lovell, who brought her daughter up with her, also talked about unhealthy CO-2 levels and how quarantines rules don't make sense.  Her daughter said it made her feel light-headed exercising with a mask on.  Ryan Evans said he refuses to comply with any vaccines mandates.  Nicholas Brenner criticized the quarantine rules.  A couple of audience members asked if any student had been turned away from entering school because they had a fever, and no one could think of any.
Fulkerson read off the statistics from the Egyptian Health Department on students at the various district schools that had contacted COVID-19 since January, noting there were more cases so far this September than all of last year.  Then a vote was taken on the 2020-21 Return to School Plan and board members voted to continue with the current plan with no changes.  The only board member to vote against the measure was Kelly Ackerman.
Tim Buss, an executive search consultant with the IASB, again spoke with the board concerning the Unit #5 future superintendent vacancy. He gave the results of their online survey, saying 277 people filled it out, consisting of board members, staff members, parents and community members.   The main takeaway from the survey was that a majority said they would prefer someone with previous experience, but it was not required. The results will be put into a brochure, then returned to the board for final approval.  The final date to apply for the position is October 27th. Interviews will be conducted in November.
In the Superintendent's Report, Brad Lee said the district's sixth day enrollment for this school year was 1,348, up 16 students from last year.  The State Board of Education announced that schools can continue to serve meals at no charge for all students throughout this school year.  Renovation of the high school Science Lab is scheduled to be completed by the end of October.  This week the district will start testing school personnel who have not been vaccinated for the coronavirus.  The updated administrator and teacher compensation report will be on the district's website by October 1st.  Athletic Director Kurt Simon gave an update on the current sports teams, their coaches and their records.  And the building principals gave an update on how the first four weeks of school has gone in their respective buildings.
The board approved the Fiscal Year 2022 Budget, which differs slightly from the Preliminary Budget.  Total receipts for all funds are projected to be $17.35 million with expenditures of $17 million.  The projected balance for all funds is $14.8 million.
Approved was application for a FY 22 School Maintenance Project Grant matching dollar for dollar up to $50,000, for the maintenance or upkeep of buildings or structures for educational purposes.
Also approved were no changes made to the Board Policy for the Prevention of and Response to Bullying, Intimidation and Harassment.
In other business, the board approved a resolution listing the district's current serious safety hazards to certify they still exist; accepted the resignation of Jean Nelson as a Special Education Individual Aide at Jefferson School effective September 17th; and accepted $100 in donations to the Lincoln School in support of its programs.
The board went into closed session at 8:33 PM.