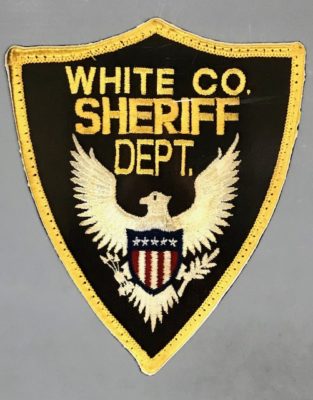 White County Sheriff's deputies responded to an incident that occurred at 7:43 PM Thursday at Black Diamond Estates at 1226 County Road 700 East in Carmi.
52 year old Linda Krysinski said a white female, later identified as Christina McCool, 52, of 211 North Locust Street in Norris City, had entered the back door of her residence without permission.
Krysinski said she lived with the homeowner, 49 year old Tersea Lee, and was in the garage on the north side of the residence when she noticed that McCool had parked her grey 4-door vehicle on the east side.  Krysinski left the garage and saw the door to the dog kennel room was open.  After going back in to the residence, she noticed McCool standing in the hallway.  She told McCool to leave, and then McCool said she was looking for her daughter and ran towards her vehicle.  Krysinski called 9-1-1 and took a photo on her cell phone of the woman and the vehicle with a licence plate number, which she showed the deputies.  McCool took off driving east down the back driveway which is a dead end.  She then turned around and began driving fast down the driveway and turned south on County Road 700 East.  The homeowner, Tersea Lee, was in the kitchen at the time, saw McCool going down the driveway.
While the deputies were speaking to Krysinski and Lee, Sgt. Butry told them he was behind the vehicle on West Main Street in Carmi.  They told Butry that they had a signed complaint by the homeowner and to stop the vehicle and detain the occupant inside.  A traffic stop was performed in the Elastec parking lot on West Main and the occupant of the vehicle was identified as McCool.  After a positive ID by the two deputies who arrived on the scene, McCool was placed under arrest for Criminal Trespass to a residence.  McCool said she meant no harm and that she received a phone call from a person saying her daughter was lost in the area and that she was looking for her, although her daughter was not there.  McCool was transported to the White County Jail and her vehicle was towed to Cherry Street Automotive from the scene.
McCool bonded out to $100 plus a $20 booking fee Friday afternoon.
On Friday evening at about 9:19, Officer Spencer met with 82 year old Robert W. Myers of Carmi at the White County Sheriff's Department, in reference to his having received an email claiming to have his bank account information.
Myers said he received the email early Thursday morning, which claimed someone had obtained compromising information about him and told him to open an attachment and follow the directions to stop the release of this information.  It also claimed to have Myers' bank account information.  Myers said he had already contacted his bank, who told him this was a scam and he should contact the Sheriff's office and file a report.  According to Myers, the account number in the email was not his and there was no fraudulent activity on his account.
Myers was advised an incident report would be completed and placed on file with at the Sheriff's Department, and to watch his bank accounts for any unauthorized activity and to report it to them.