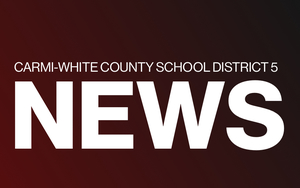 Contentious School Board Meeting Monday
Another contentious but mostly civil Carmi-White County School Board meeting was held (last) Monday night at the Junior/Senior High School Auditorium.
.  Visitors were each given five minutes to make statements, and for about an hour and a half, twenty of the approximately fifty people in attendance gave their remarks mainly concerning masks being mandated in our schools.  Those making comments included mostly parents of students, but a couple of teachers and healthcare professionals as well.  All members of the public were wearing masks.
Most in attendance said they had read many studies stating that masks don't work.  Several implored the board to defy the Governor's Executive Order on mandating that
masks be worn by all students and go back to the earlier back-to-school plan of making mask wearing optional.  One woman asked for remote learning as an alternative.  Some believed the board should just make mask wearing optional as a few school districts have done and stand up to the Governor, as they don't believe the district would be sued or have funding taking away as has been threatened.  Others said they appreciated the board members for being in a tough situation, but don't agree with them.
Even though many were angry, everyone there was courteous with the exception of one man, who after shouting out "stop the masks" a few times, was escorted out of the meeting by a couple of Carmi Police Officers.
After everyone had spoken, Board President "Pete" Fulkerson read a letter from the state Board of Education that was sent to all school Superintendents on August 11th concerning adhering to Governor Pritzker's mask mandate.  There was loud laughter after Fulkerson read a line that said "masks work best when everyone wears one."  He then said he wants to hear the public's concerns and will do whatever he can to protect our students.
After all the comments, the public left and the board moved on to other business.
In the Superintendent's report, Brad Lee said a breakfast for all staff and staff meetings were conducted at the Junior/Senior High School on August 12th, sponsored by Hucks.  Building principals introduced new staff members and gave building updates.  On August 13th, an insurance meeting was held at 8 AM.  Students were given a 50 minute early dismissal to allow students to become acclimated to school.
Back to School Nights for Lincoln and Jefferson were held last Thursday, Washington 's was Monday night and Junior High is Tuesday night.  This Friday before the Fall Sports Festival, the High School will have its Back to School Night.
Lee also thanked the building custodians, who always do an outstanding job preparing district buildings for the beginning of the school year, and also thanked office staff members and custodians who deliver instructional materials and supplies.
In the Good News segment, all the building principals noted how excited the students were to get back to school.
Revenues for the month of July were the lowest of the year, about $588,000, with $65,000 from the one percent sales tax.
Tim Buss of the Illinois Association of School Boards address the board members about providing the district guidance in hiring a new school superintendent to replace Brad Lee, who will be retiring on June 30th of 2022.  The IASB will first send out an online survey to see who is interested in the position, will then put out applications online, then review them and do a Zoom interview with the top 10 candidates, then narrow that down to six to present to the CWC School Board to interview.  Then after narrowing that down to the top two or three candidates, the Board will interview them in Closed Session.  The IASB will help with questions to ask.  They have done executive searches for 305 districts in 77 counties, so they are very experienced at this.  The board then agreed to utilize the IASB to search for a new superintendent of schools.
Justin Miller with School Financial Services reviewed the preliminary FY22 Budget.  He noted that the district has $17.2 million in revenue, compared to $16.3 million for the last fiscal year, and has $220,000 more in revenue than expenses.  The Fiscal Year 2022 tentative budget was accepted and placed on display for a minimum of thirty days and that the public hearing and adoption be set for the September Board meeting.
In other business, final action was taken on 12 changes in board policies; they accepted the resignations of Linda Poole as a Special Education Classroom Aide at Brownsville School effective at the end of the 2020-21 school year, Samantha Bugera as a Cook at the Carmi-White County Junior/High School effective this past August 9th; Megan Thomas as a Carmi-White County High School Agricultural Education Teacher effective this past August 12th; Marcus Lynn as 5th Grade Boys' Basketball Coach, Katharine Stewart as Special Education Individual Aide at the Carmi-White County High School and Stephanie Newcomb as Carmi-White County Junior High School Assistant Girls' Track Coach, all effective immediately.  Also approved was a $50 donation to the Brownsville School.
The board went into closed session to discuss personnel at 9:24 PM.