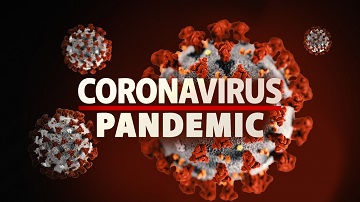 Rumors swirled around an alleged positive Covid-19 case in Saline County and Harrisburg specifically for a couple days prior to the confirmation on Saturday.  That report has helped fuel further speculation here in White County.  A social media post from the co-owner of Dr. Saquib's office on Saturday alleged that while there are "no known active Coronavirus case[es] at our office, one of our employees came in contact with a positive case" and that office will be practicing due diligence and closing through April 13th.  The office says they will be practicing telehealth during the pandemic however and folks with questions or who need services should call 812-499-0561.
There has also been talk of someone within a White County government office experiencing symptoms and having been tested.  We reached out for comment Sunday and understandably were told "without express permission from the employee, the spokesperson couldn't comment" on said rumor.  That has been the Health Department's stance with regards to cases, due to obvious privacy concerns, to not divulge specific name's or locations.
WROY/WRUL News also received the following message Sunday from the White County Supervisor of Assessments, Terry Abell.
I just want to let the wonderful people of White County know that my office (Terry Abell, White County Supervisor of Assessments) will be closed Monday, March 30th and depending on the outcome of unforeseen circumstances possibly longer. As you know we have been closed to the public for a week now. The Seniors that are wanting to turn in your exemption renewals please hang on to them or you can put them in the mail. They are not due until the end of May but I perfectly understand wanting to get it taken care of. I am trying to get something set up outside my office as a drop box. For Realtors or Title Companies most all of your questions can be answered by getting on the County GIS Site. You can get parcel number, taxes, acreage/lot size, exemption information, owner name, address, deed references (if they have any that've been entered) and assessments. To do this, go to the WHITE COUNTY ILLINOIS GOVERNMENT website, THEN CLICK ON ELECTED OFFICIALS, CLICK ON SUPERVISOR OF ASSESSMENTS, when the page opens, in the middle of the page will be a GIS ONLINE button, click on it and you'll be taken directly to the site. For any other questions please feel free to call my personal number 618-384-0936, if I don't answer please leave your name and phone number and I will get back to you as soon as I can. I will keep you updated. Thank you for your patience in these trying times. God bless and stay safe.
We asked Mrs. Abell if her office's closure had anything to due with the rumors of a test in a government office.  She responded that it wasn't related to that, but that she felt it was a wise decision to help prevent any possible spread given that the Supervisor of Assessment office is housed in the same building as the Ambulance service.  She says with those workers having to go in and out of hospitals, and her office workers sharing the same hallway, bathroom and same circulated air, it's simply the most prudent thing to do to prevent any potential of spread should someone come into contact with the easily transmittable virus.
The Illinois Department of Public Health (IDPH) Sunday announced more than 1,100 new cases of coronavirus disease (COVID-19) in Illinois, including 18 more deaths.