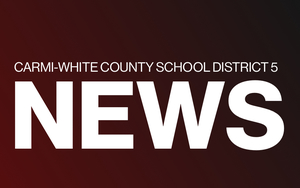 Due to the Tier 2 mitigations for our region the Carmi-White County CUSD #5 Board of Education meeting will be held virtually on Monday, November 16th at 7:00pm. This meeting will be conducted using the district Google Meets account. The public will be able to access the meeting through telephone only by calling into the central office and registering by 4:00 pm on Monday, November 16th. Attendees will receive a phone number & access code to use to login.
Only phone numbers registered with the central office will be allowed access to the meeting.
Anyone wishing to access the teleconference can do so by calling the Unit #5 office at (618) 382-2341.
During the meeting the microphone will be muted upon access. Anyone wishing to make public comments should notify the central office when receiving the access code. Please let us know if you have any questions, concerns, or need any assistance.
Agenda:
Regular Meeting of Board of Education
Carmi-White County Community Unit District No. 5
The Board Meeting will be held Via Google Meets. Contact the Unit #5 office at
(618) 382-2341 by 4:00pm Monday, November 16 to register and receive login information.
Monday, November 16, 2020, 7:00 p.m.
1. Pledge of Allegiance.
2. Call to Order and Roll Call.
3. Approve Consent Agenda:
A. Minutes of October 19, 2020 regular board meeting
B. Leave of Absence
C. Resignations
D. Donations
4. Approve Bills.
5. Approve Treasurer's Report.
6. Public Communications with the Board.
PLEASE NOTE: PUBLIC COMMENTS CONCERNING PERSONNEL OF THE
DISTRICT SHOULD BE MADE IN CLOSED SESSION OF THE BOARD.
7. Superintendent's Report to the Board and Communications.
8. Annual Audit.
9. Consideration and Action Upon a Resolution Authorizing the Abatement of Bond
Levy.
10. School/District Improvement Plans, School Report Cards and State Test Scores.
11. Vehicle Bids.
12. Closed Session (Personnel).
13. Action Following Closed Session.
A. Consideration and action upon the employment of the 6th Grade Girls' Basketball
Coach for the 2020-2021 school year.
B. Consideration and action upon the employment of the High School Assistant
Volleyball Coach for the 2020-2021 school year.
C. Consideration and possible action on the appointment of a new board member to fill
the vacated position.
14. Adjourn
SUPERINTENDENT'S REPORT
November 16, 2020
1. PARENT/TEACHER CONFERENCES
Once again this year, evening parent/teacher conferences were held during October. We appreciate the extra efforts by our staff to conduct the conferences this year and give parents and guardians the opportunity to talk with their child's teacher(s).
2. WABASH AND OHIO VALLEY SPECIAL EDUCATION DISTRICT GOVERNING BOARD MEETING
The fall meeting of the Wabash and Ohio Valley Special Education District governing board is scheduled for Tuesday, November 17, 2020 at 7:00 p.m. at the Hood Center in Norris City. Each school district in the nine-county WOVSED cooperative is represented by one member of the board of education. The Carmi-White County Unit 5 representative
is Mrs. Barb Mitchell.
3. FALL ATHLETICS
This fall our student athletes were able to compete in boys'/girls' cross country, boys'/girls' golf, and girls' tennis. The fall school sports seasons are officially completed. Congratulations to all of the fall athletic teams and coaches for their efforts and positive representation of the district.
4. SWEATS FOR VETS
Students at Washington Attendance Center participated in a service project leading up to Veteran's Day. This is the 4th year for the "Sweats for Vets Drive". Students and staff collected approximately one thousand and one hundred items, including sweatshirts, sweat pants, socks, thermal underwear, slippers, gloves, hats, pajamas, blankets, and
t-shirts. These items are to be delivered to the VA Hospital in Marion.
5. SUMMER MEALS PROGRAM
The Illinois State Board of Education Nutrition Department recently shared that the U.S. Department of Agriculture announced a wavier extension, that will allow schools to operate Summer Meals Programs through the end of the 2020-2021 school year. This will allow free meals for all students through June 30, 2021.
6. SCHOOL BOARD MEMBERS DAY
Each year November 15 is recognized as "School Board Members Day" in Illinois. This day was to recognize these public servants for their commitment and contributions. I would like to thank Unit #5 board members for your service and dedication to our schools and community.
7. DONATION
The Absher Charitable Foundation has donated $66,470 to C-WC #5 for the purchase of 20 ActivPanels. These will replace active boards and smart boards throughout the district that are no longer functional. We appreciate, First Bank President, Nikki Roser and CEO Al Fritschle for their role in helping secure this donation.
8. 2020 TAX LEVY
To date we have only received an approximate EAV for property values in 2019.  Therefore we hope to have final numbers at the December meeting in order to set a levy for 2020.
9. SCHOOL FUNDING
Due to the decline of state revenues during this pandemic along with the graduated income tax not passing in the November election, we are being told to expect a decrease in State Funding for FY 21 and FY 22. We can expect a 5% cut in funding for this year and a 10% decrease for next year.
10. WINTER SPORTS UPDATE
We will give an update concerning the recent conflicting guidance from the IHSA and IDPH regarding participation in the basketball season.