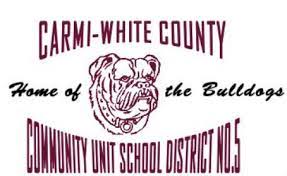 The Carmi White County School Board met for half an hour Monday night for its regular monthly session.  Scott Mareing was there and has this report…
The board approved a Second School Resource Officer for the 2023-24 school year in an agreement with the City of Carmi and through its Police Department.  Officer Drew Grider will be the new SRO.
Also the Preliminary Budget for FY 24 was accepted.  It will be placed on display for a minimum of 30 days, and a public hearing and adoption of the budget will be will be at a special meeting of the board on September 25th.
The board approved moving back the September meeting one week in order to meet the minimum 30 day display requirements.  There will be revisions to the preliminary budget prior to final adoption.  So they agreed to hold a public hearing at 6:45 PM on September 25th, with the regular meeting to be held at 7 PM at the Jefferson Attendance Center annex building.
In the Superintendent's Report, Jarrod Newell said there was a breakfast for all staff and a staff meeting on Monday August 14th at the Junior/Senior High School.  Then building principals introduced new staff members and gave building updates.  And a representative of the Guardian Center provided an update on Faith's Law.  Students began school last week on August 15th with one hour early dismissal, which continued for the rest of the week. "Back to School Nights" continued again this year to better inform the parents/guardians of the programs available to students.  Newell thanked summer employees for the outstanding job they do in preparing districts for the beginning of the year. 
In communications to the board, Director of Food Services Mandy Stimson said the schools are doing a good job feeding free breakfasts and lunches to those students among the 700 in the district who are in need.  Director of Technology Todd Haley said the district will have new chromebooks and desktop computers for this school year.
In Public Communications to the Board, Kathy Sands read a statement asking them to not let woke ideology into our schools that have been passed into law in the state legislature and supported by the Governor.
And the Consent Agenda was approved, which includes Final Action of Change in five Board Policies, a Leave of Absence for Kaylea Stubblefield and a requested 20 days at substitute pay deduction, and total donations of $1,100 for the Carmi-White County High School in support of its FFA programming in memory of Jim Pretzsch.
The board went into Closed Session to discuss Personnel at 7:29 PM and approved the following New Hires, Resignations, Reassignments, and Volunteer following: