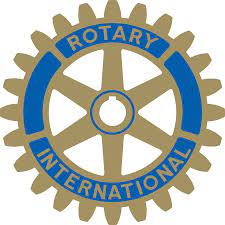 At Thursday's meeting of the Carmi Rotary club, Charlie Coe was on hand and he brought along some examples of his incredible wood-working skills.
Charlie explained to the Rotarians that he used to work with his grandfather in his old wood shop, but until about five years ago he didn't have the time to devote to working on his own. Around three years ago he really got into the hobby and is now working constantly on this fascinating craft.
He showed the Rotarians a few of his pieces, including ones that he has used other folks' patterns, and the ones he has designed himself. Among those creations, he has done several EMT and fire department designs, and has had many of those requested by other fire departments and ambulance companies.
He spends a lot of time on cars and trucks, and they make excellent Christmas gifts. He said two of his biggest sellers are the tractor and trailer combination, and the semi-truck set.
He has started working about 3 craft shows per month, and at a recent event in Indiana he sold 73 of his mini cars along with other pieces. He stated that he is kept busy just trying to keep up with the demand from new and repeat customers.
In the future he is considering putting up a small building near the road on his property to be a retail shop for the items he is creating. He also noted that later this year he will begin making and selling various Christmas items at shows around the local area.
In club business, President Patrick Haskel reminded the Rotarians of a big day coming to Carmi, April 8, 2024. That is the day that the next total eclipse will be happening, and this time, Carmi will be dead center for the big event. Ideas are already being thrown around for ways to help with the large crowds that might very well descend on our community that day.
Sherri Logan won the 50/50 drawing but did not capture the day's cash prize. Randy Adams was named as the day's phantom.
The Carmi Rotary club meets every Thursday at noon at the First United Methodist Church on Main Street in Carmi. Anyone wishing to learn more about this civic organization is welcome to attend a meeting or speak with any Carmi Rotarian.